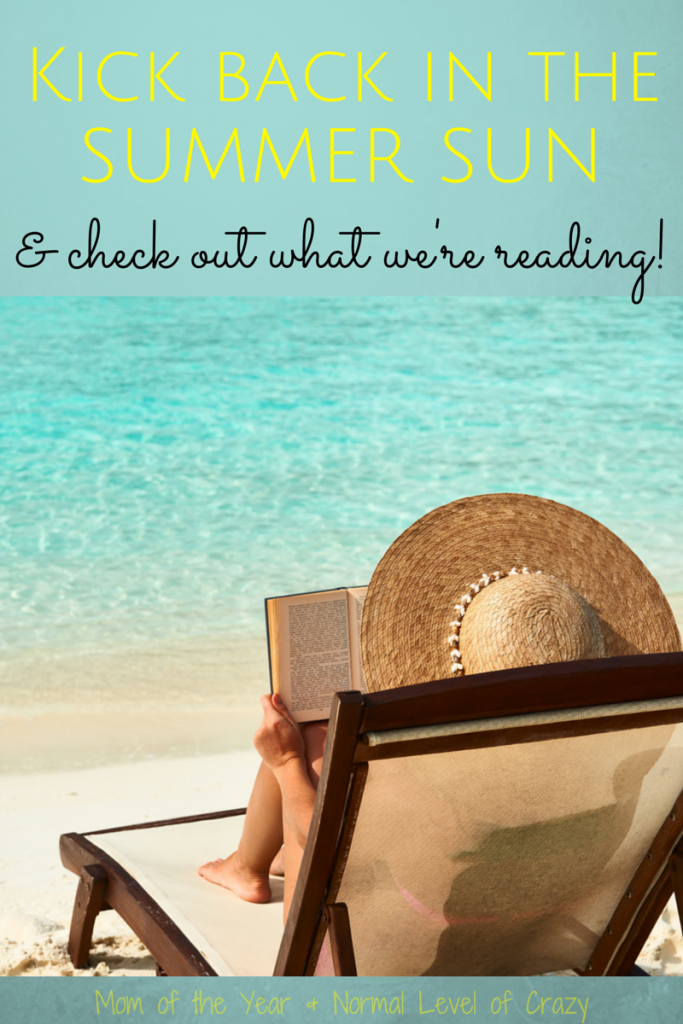 This month, my gal Carrie of Normal Level of Crazy is kicking off our summer book club by scooping our latest read and then, as always, offering a chance to grab our next pick for free! Sweet! Take it away, Carrie!
***********************************************************
Well, Meredith from The Mom of the Year, and I are at it again with easily my favorite pastime … reading!  I know how busy you all are and I hope you're getting to delve into at least some of these books in our club during these last days of school!  (Why must there be so many end of the year projects!!!)  As Meredith stated last month, having the time to myself to immerse in an engaging novel really does give me the break I frequently need from day to day life.
*************************************************************
Our book this month is The Storied Life of A.J. Fikry and, weirdly, I fought reading this book for quite awhile.  I kept seeing it on all these "must read" lists and kept wondering if this book could be that good.  Even it's Amazon reviews and stars were startlingly outstanding.  For real?  I thought.
Yes.  For real.
I loved the simplicity of this book.  And yet, it was not simple at all.  It weaved mystery, love, and humor effortlessly throughout.  And it covered my favorite topic … books.
As we described last month, the book is about a rather bad-tempered, irritable and cynical book store owner who is left a mysterious "package" right around the time a precious heirloom is stolen from him.  At first glance, I thought this was about an elderly man near the last days of his life, but in fact, A.J. is rather young.  He's had a rough time of it and he has let his life dwindle.  Of course all of this changes when said "package" arrives.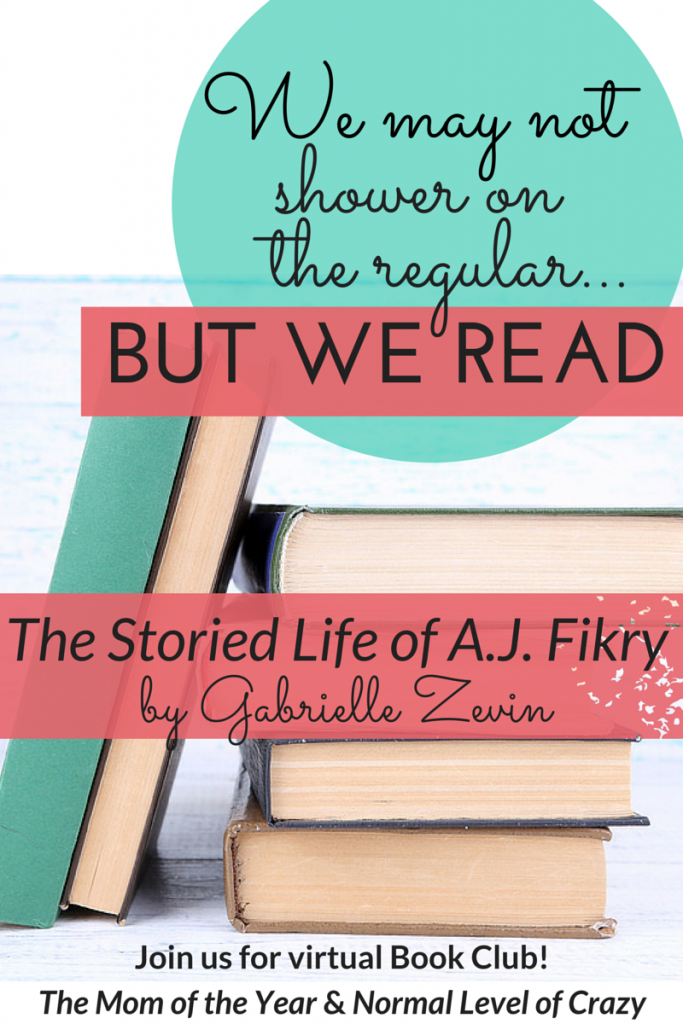 Did you find the mystery of the "package" engaging?  How about the twist and turns near the end of how it came to be in the bookstore?  Did you enjoy how the author wrapped everything up at the end?
And what about the bookstore A.J. owns?  I felt like I was right there in the midst of it.  Of course, I adore bookstores, especially old, overflowing, odd ones!  At times I felt like the bookstore was it's on character, carrying us from one scene to the next, adding depth and perspective to each character and scene.
How did you feel about Island Books?  Did you feel the pulse of the bookstore as just as much a setting as it's own character?  
Do you enjoy pursuing titles and discovering new authors in bookstores similar to Island Books?
One of my favorite characters was Amelia, with her strength and intelligence, but of course it was hard not to fall in love with Maya.  Even though A.J. is considered the main character, the host of women characters who helped him transform and, eventually, redeem himself allowed for a sweet tenderness to the book that I truly loved.  But then don't forget about Lamiase!! Did you enjoy the crime fiction book club scenes as much as I did? Ahhhh, never mind.  I loved all the characters!!
Which character was your favorite?  Is it even possible to say?? 
I think one of the best parts of this book was the author herself, who is so committed to book clubs and books in general.  Her incorporation of passages from books in between chapters truly added an important and, I felt, special element, especially for a book lover like myself.  Zevin obviously has a true respect for books and enjoys sharing them with others.  The meat of the story was really the transforming power of love, in my opinion, in all it's various forms, including, of course, the love of books.
As always, make sure to leave a comment at the end of the post to be entered in the random drawing for a free copy of next month's read! As long as you are 18 or older and live in the continental U.S., you are eligible.
****************************************************
Speaking of which, I cannot wait to read this month's pick, The Nightingale by Kristin Hannah!  I haven't read many of this author's books, but I bet some of you have!  And the reviews on it are off the charts!!
"In love we find out who we want to be.
In war we find out who we are.
FRANCE, 1939
In the quiet village of Carriveau, Vianne Mauriac says goodbye to her husband, Antoine, as he heads for the Front. She doesn't believe that the Nazis will invade France … but invade they do, in droves of marching soldiers, in caravans of trucks and tanks, in planes that fill the skies and drop bombs upon the innocent. When a German captain requisitions Vianne's home, she and her daughter must live with the enemy or lose everything. Without food or money or hope, as danger escalates all around them, she is forced to make one impossible choice after another to keep her family alive.
Vianne's sister, Isabelle, is a rebellious eighteen-year-old girl, searching for purpose with all the reckless passion of youth. While thousands of Parisians march into the unknown terrors of war, she meets Gäetan, a partisan who believes the French can fight the Nazis from within France, and she falls in love as only the young can … completely. But when he betrays her, Isabelle joins the Resistance and never looks back, risking her life time and again to save others.
With courage, grace and powerful insight, bestselling author Kristin Hannah captures the epic panorama of WWII and illuminates an intimate part of history seldom seen: the women's war. The Nightingale tells the stories of two sisters, separated by years and experience, by ideals, passion and circumstance, each embarking on her own dangerous path toward survival, love, and freedom in German-occupied, war-torn France–a heartbreakingly beautiful novel that celebrates the resilience of the human spirit and the durability of women. It is a novel for everyone, a novel for a lifetime."
I LOVE a great book with strong, courageous women!!  And historical fiction??  Forget it.  This one has me beyond excited.  I have a feeling I'm going to be engrossed in this one pretty quickly.  Sorry to my family in advance!!
Don't forget to leave a comment on this post, sharing your thoughts about The Storied Life of A.J.Fikry or telling us you'd like to receive a copy of The Nightingale and you'll be entered to win a free copy!
Happy reading, everyone!!  And happy start to your summer!!  Deep breaths.  We will survive this summer!!
First image credit: depositphotos.com, image ID: 2569909, copyright: haveseen
The following two tabs change content below.
Meredith blogs at The Mom of the Year, where she dedicatedly earns her title one epic parenting fail at a time, offering quick, relatable laughs for fellow parents and all their empathizers. She has been part of several best-selling anthologies, featured on prominent sites such as Huffington Post, In the Powder Room and BlogHer, and loves her role as the Executive VP/Operations Manager of The BlogU Conference. When she's not breaking up fights over Legos and juice boxes, she remains fully committed to sharing a less serious look at the world of parenting.