I would say getting your child to sleep through the night is one of the biggest head-scratchers as a parent, but let's be honest: when you are going on night upon sleepless night, you're not just scratching your head, you're sobbing in repetitive fantasy of burying yourself under the covers–perhaps for a week. My kids are 3 and 5 now, and while we have the nightime gig mostly schooled away, we still struggle with how to best handle changes in routines and disruptions to our sleep schedule.
Nicole Johnson, President and Lead Sleep Consultant at The Baby Sleep Site®, understands that summertime is one of the trickiest times for sorting out sleep with your little ones, and she is here to help you get a game plan in order. She really knows her stuff (read her fantastic bio at the end), and impresses me with her ability to offer individualized, non-judgmental, real help for parents in need. Go get your sleep on this summer with Nicole's smart advice!
************************************************************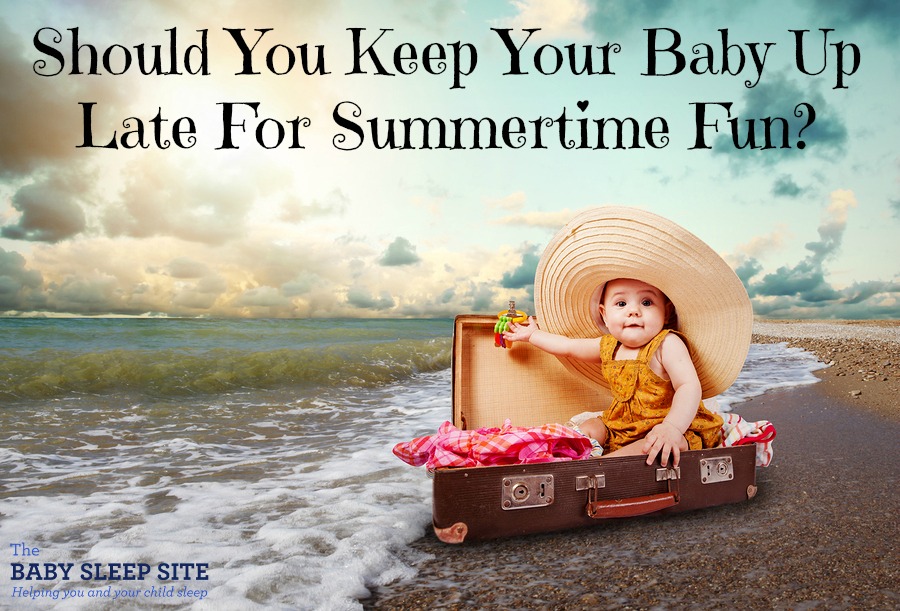 by Nicole Johnson, President and Lead Sleep Consultant at The Baby Sleep Site®
Summer approaches, and if you're like me, then you have a lot of barbecues, pool parties, and vacation traveling in your future! But if you're a mom of little ones, then you no doubt know what a double-edged sword summertime fun can be. Outdoor playtime and late-night fireworks and bonfires spell fun for you, but lots of missed sleep for your baby or toddler.
So what's a sleep-conscious parent to do? Do you insist on sticking to your usual nap time and bedtime schedule over the summer, and miss out on special events and special activities, or do you join in on the summer fun and deal with missed naps and late bedtimes?
Should You Allow Missed Naps and Late Bedtimes, or Should You Stay Home?
This is a tough question, because the answer depends so much on unique factors, like your baby or toddler's personality and sleep needs. So ultimately, this is one of those decisions that's best left to you. I'll supply some information and point out some considerations to help you make that choice.
With that said – here are the factors you'll want to consider in deciding whether or not you should bring the kids along to that day-long barbecue, or to that late-night 4th of July celebration:
Does your baby or toddler have high sleep needs? Some babies and toddlers are able to get by on less sleep — they tend to make up the lower end of those 'sleep average' numbers I highlight sometimes on my blog. However, other babies and toddlers have higher sleep needs – they tend to need more nighttime and naptime sleep than other kids their age.
Is your baby or toddler adaptable enough to handle the schedule change? Adaptable babies are more likely to accept schedule changes without too much fuss, while slow-to-adapt babies tend to be much, much less forgiving when it comes to disruptions to the routine.
If your baby or toddler is fairly adaptable, and does okay with a little less sleep than normal, then having a night or two of holiday fun probably won't make much of a difference in your little one's demeanor. However, if your baby is slower-to-adapt, and has higher sleep needs, then even one 'off' night of less sleep may produce quite the cranky pants the next day and for a few days after!
What To Do After Your Baby or Toddler Misses a Nap or Goes To Bed Late
If you do decide to enjoy some late nights over the next week, bear in mind that there may very well be some exhausted, fussy aftermath to deal with the next day. Here are a few tips to help your baby or toddler make up for lost sleep, and get back on track quickly:
It's okay to let your baby or toddler sleep in the morning after a late bedtime. Obviously, if your little one sleeps past his normal wake-up time — let that happen! But it might not – you should also be prepared for early-morning waking. Remember, babies and toddlers who are overtired actually tend to wake early, so it may be that your late night causes a super-early morning wake-up call.
If your baby or toddler wakes too early, or even wakes at her usual time the next morning, try making the first nap earlier. The first morning nap tends to be the most restorative, so moving it earlier in the morning, and allowing it to go long, can help your baby or toddler catch up on her missed sleep.
Insist on an afternoon rest time, if your toddler no longer naps. Even non-napping toddlers may be extra sleepy after a late night, so firmly insist that your little one spend an hour or so in bed, with toys and books. This way, if he is feeling sleepy, you will have set the stage for sleep.
Cut the afternoon nap short, if it's going too long, as a nap that ends too late in the day can mean a later-than-usual bedtime, and that can cause a rough cycle of late bedtimes and out-of-whack naps that'll be tough to break.
Ultimately, it's up to you to decide when it makes sense to enjoy some schedule-busting summer fun, and when it's time to stay home and skip an outing, in favor of maintaining the sleep schedule. So much depends on the unique temperament of your baby or toddler – I'm sure some of you have little ones who are just fine missing sleep now and then, while others of you may have babies or toddlers who, if they have just one late bedtime, are "off" for days and days.
When my oldest was a baby, the slightest change in his daily schedule would lead to a week (or sometimes more!) of horrible sleep – so any event that would interrupt a nap or lead to a late bedtime had to be really, really worth it to me! But my youngest son was much more flexible; after he was born, I finally understood how people with babies actually managed to leave the house and enjoy themselves!
No matter how you manage your baby or toddler's sleep this summer, remember: restorative sleep is important to your baby's health and development, and to yours as well! If your baby or toddler isn't sleeping through the night yet, and you're wondering how to help, why not download my free e-Book, 5 Ways To Help Your Child Sleep Through The Night? It's a great tool that'll help you get started on the road to peaceful nights and relaxing, consistent naps!
Nicole Johnson is a married mother of two wonderful boys and owner of The Baby Sleep Site. When her eldest son was born, he had a lot of sleep problems – he would wake every one or two hours, all night long! She got busy and thoroughly researched literature and scientific reports until she became an expert in sleep methods, scheduling routines, baby developmental needs, and more. She overcame her son's sleeping issues in a way that matched her own parenting style, and knew it was her mission to help other tired parents "find their child's sleep". If you have your own sleep issues, maybe she can help you, too.
The following two tabs change content below.
Meredith blogs at The Mom of the Year, where she dedicatedly earns her title one epic parenting fail at a time, offering quick, relatable laughs for fellow parents and all their empathizers. She has been part of several best-selling anthologies, featured on prominent sites such as Huffington Post, In the Powder Room and BlogHer, and loves her role as the Executive VP/Operations Manager of The BlogU Conference. When she's not breaking up fights over Legos and juice boxes, she remains fully committed to sharing a less serious look at the world of parenting.