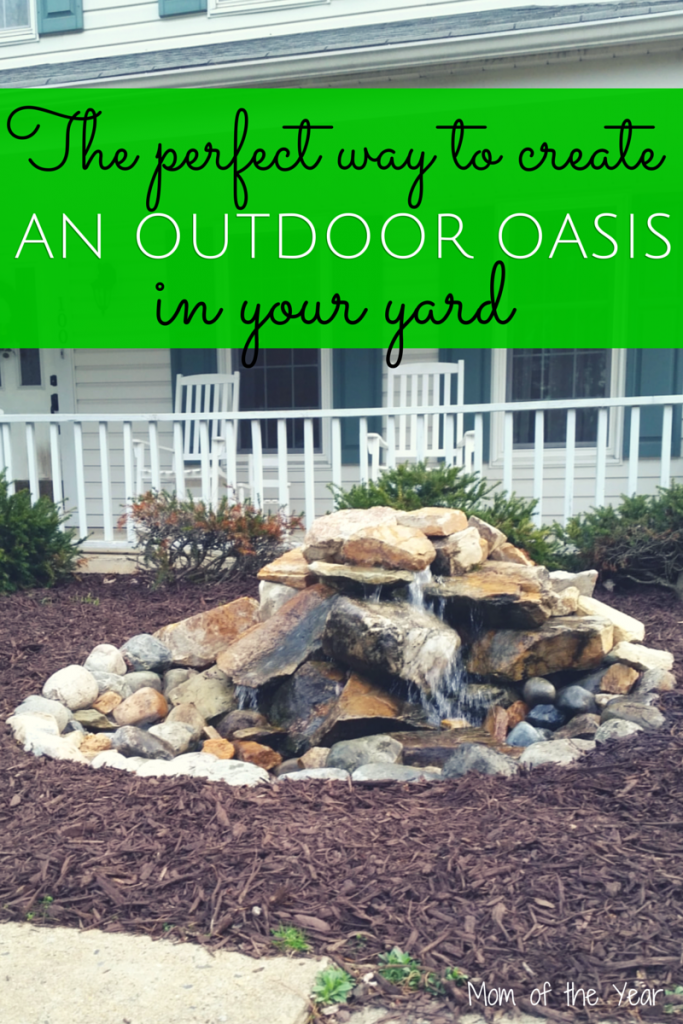 So, a bit ago my husband began this crazy beekeeping hobby. Yeah, that's still happening.
While largely the bees do their thing and I do mine, they started hanging out a bit too much around our pool last summer.  Somehow the concerns I voiced regarding this translated into my husband's pressing need to build a pond in our front yard. The logic is beyond me; just go with it.
I did all the things, friends. I made the sideways glares, passive-aggressively tisked disapproval over diagrams of his plans and remained certain that such an endeavor was way too far out of our grasping-at-straws-to-maintain-sanity-with-young-kids existence.
Still, as Dr. J tends to do, he persevered.
He was determined for this pond–for the bees, for our yard, for the sheer value of creating something beautiful at our home. Whatever his motivation, it was happening. And God bless Practical Garden Ponds because they allowed it to be a feasible task that did not slay us with its enormity.
What is Practical Garden Ponds?
If you are local, this company can create a one-of-a-kind pond feature at your home and then take care of servicing it as needed. If you live a bit further away, Practical Garden Ponds is still something you want to check out. They not only sell pond equipment and accessories at incredibly reasonable prices, but they offer individualized, dedicated recommendations and inspiration.
It was a delight to work with Nate, the proprietor, in creating our pond. Practical Garden Ponds will happily do all of the work for you, or help you do it yourself, as preferred (my ambitious husband wanted to tackle a lot of it by himself). Personally, I preferred to cheer the process on from the front porch 😉 
Why is a pond a good thing?
Aside from all the ecological benefits, which my husband would love to hash out in detail if you're interested, I'll speak to the beauty and serenity of our pond. We chose a pondless water feature, which in our case, basically means a pretty pile of rocks water repeatedly circulates over (without a pool of water at the bottom).
Could it get more peaceful??
For me, no. Our pond is set on a timer, so from when I get up in the morning to when we settle in for the evening, the water soothingly runs in the background of our days. I work from our dining room table, with the windows open in the warmer months. I can't say how calming it is to hear the water flow; even when the events and endless emails of our lives rage on, at least this one peaceful thing is a gentle constant.
I love our pond, and in short: my husband was right. This was the right choice for us. While too many times I roll my eyes over Dr. J's tenacity, in this case, I'm thankful for it. Thankful for it in the way that leaves me feeling gorgeously serene listening to the sound of the water repeatedly rolling over itself–in this crazed Mom of the Year's lifestyle, this is a blessing of no small proportion.
So take a leap with your own home–let Practical Garden Ponds use their gift on your yard for a fraction of the cost you'd pay elsewhere. Your sanity will thank you, I promise.
Now you'll excuse me–I've got a pond to go bliss out over.
****Thank you to Practical Garden Ponds for their help in creating our pond feature! Our appreciation of their services remains 100% genuine!****
The following two tabs change content below.
Meredith blogs at The Mom of the Year, where she dedicatedly earns her title one epic parenting fail at a time, offering quick, relatable laughs for fellow parents and all their empathizers. She has been part of several best-selling anthologies, featured on prominent sites such as Huffington Post, In the Powder Room and BlogHer, and loves her role as the Executive VP/Operations Manager of The BlogU Conference. When she's not breaking up fights over Legos and juice boxes, she remains fully committed to sharing a less serious look at the world of parenting.