My husband and I have never been very big on leaving the house. At first, it was money, or lack thereof. And then it was kids piled on top of money. Let's be honest; even if we could manage to find a sitter, she probably doesn't want to get paid in leftover Goldfish crackers?
So we've gotten good, very good, at the at-home date. Stash the kiddos in bed, crack open a bottle and cue up the latest episode of Parenthood. Or, if it's a really adventurous night, it might just be worth a swing by that nifty Redbox. We cozy in and love it up. It works.
Most of the time.
But see, once in a while…I want a teensy bit more of a soiree. Rarely, as people generally scare me.
So when one of my very best friends mentioned she had to burn an hour every week during her daughter's lesson across the street from our house, my wheels got to turning.
What if…? No, that would be insane.  But we could…
And as soon as the thought formulated, I knew it was meant to be. With a swift call to my friend and a bottle of wine snagged, it was official. Thursday night Happy Hour in our house was ON.
How does it work? My friend brings her kids. If it's nice, they run wild on the yard while we chill on the deck. Now that it's bit chillier, who really cares about a tidy house? I can put all the legos away tomorrow…or never. The point is that the kids are playing together and having a blast.
The adults, my husband, friend and I cozy up to the table, pour a glass and munch away on whatever culinary fail I've dreamed up for the week. I am not a chef.
(But truth told, it is kind of fun to put together some yummy bites I'd never normally serve. This week I'm doing homemade soft pretzels with cheese fondue. I know, my waistline is drooling with you. But what better excuse to make something so comfort food-worthy?)
After a few weeks of our weekly dates, I got smart and started beefing up the spread a bit so it could count as dinner and I didn't have to cook again. Score!
While the food is yummy-ish and the company superb (my friend is amazingly cool and easy to hang with), the real win of the night is that we RELAX.
Come again?
I know, I said relax. Because we do. Yes, with the kids present. After our very first Thursday Happy Hour, my entire family was in bed and snoozling by 8:30pm. It was a miracle. Talking to my husband about it the next day he said, "But we actually stopped. Hanging out like that let us all relax."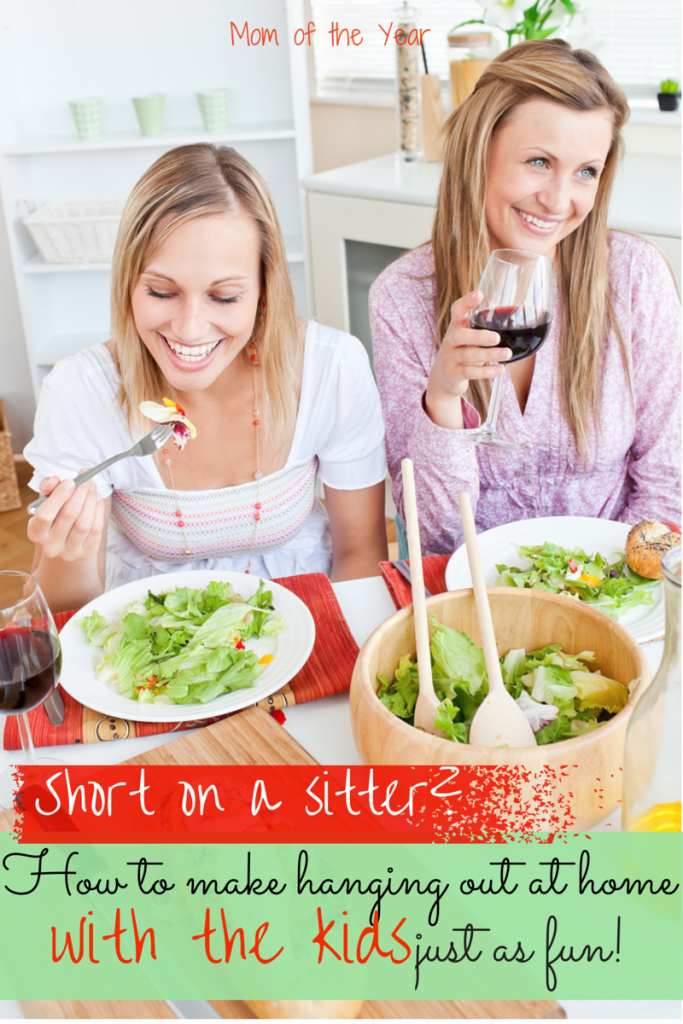 Come Thursday night, I feel beaten up by the week. Something that can help my family chill and smile? A Godsend. We pour ourselves into our hours, our days, and forget to take minutes to come up for air. Thursday nights are a sweet reminder to lift our heads up and breathe deeply.
I love them. We all do. We all look forward to our weekly Happy Hour and all the sweet breathing room that it offers.
My excuses of no money or no childcare? Shove them under the kitchen table. Uber-cheap wine and allowance for kids' temper tantrums between sips works perfectly well when the friends are real–and the value of time together supersedes all else.
Cheers, friends–however you find your Happy Hour or make it happen!
First image credit: depositphotos.com, ID:3756992, copyright:Valdemar
Second image credit: depositphotos.com, ID:10836012,copyright:Wavebreakmedia
The following two tabs change content below.
Meredith blogs at The Mom of the Year, where she dedicatedly earns her title one epic parenting fail at a time, offering quick, relatable laughs for fellow parents and all their empathizers. She has been part of several best-selling anthologies, featured on prominent sites such as Huffington Post, In the Powder Room and BlogHer, and loves her role as the Executive VP/Operations Manager of The BlogU Conference. When she's not breaking up fights over Legos and juice boxes, she remains fully committed to sharing a less serious look at the world of parenting.