My son is brilliant.  I love the way his mind works, jumping from one cool discovery to another. I love his strength, the way he's risen through adversity and allowed it to make him stronger.  From the first summer of his life when his colic was so severe I questioned whether either of us would make it through, to when he was body-casted at 28 months as a result of a severe femur break.
Though he still remembers almost every detail of his hip spica cast, it's now a thing of the past.  While my little guy had to learn to walk all over again and worked hard for two and a half years to be able to run and keep up with the other kiddos his age, I'm now so proud to report that he has officially finished with physical therapy!
It's been a long road, a bit of messy road, and there is no way we could have trod it without the encouraging, smart skill of his physical therapist, Melissa Geffers from Austill's Rehabilitation Services.  You see, my son is a sweet, neat kid, but he is stubborn. No idea where he gets that from…If he gets a notion into his head that he doesn't want to do something, forward progress can be tricky at best.  Nothing makes his resistance more apparent than situations that are fearful to him.
Learning to jump and ride a bike can be scary for any kid, much less one with his disposition and the resulting challenges of his break. He needs someone who can be endlessly patient, but who can be firm in pushing him on to new goals.  Someone who is wicked clever at tricking him into trying new tasks in the form of creative play and games.  Someone who makes him work, but makes the work fun.
I feel so blessed that God brought Melissa into our lives two summers ago.  She was just the person we needed and He knew it.  Through her work and instruction I saw my son grow in ways I was never sure he would.  Melissa is also just a very, very neat person.  For two years, she has visited our house weekly and accepted us for all that we were. She put up with my fussy toddler daughter, my unwashed hair, the millions of teeny Legos all over our carpet, our psycho chocolate lab, and the fact that my preschool son sometimes was simply having a bad day, like preschoolers tend to do.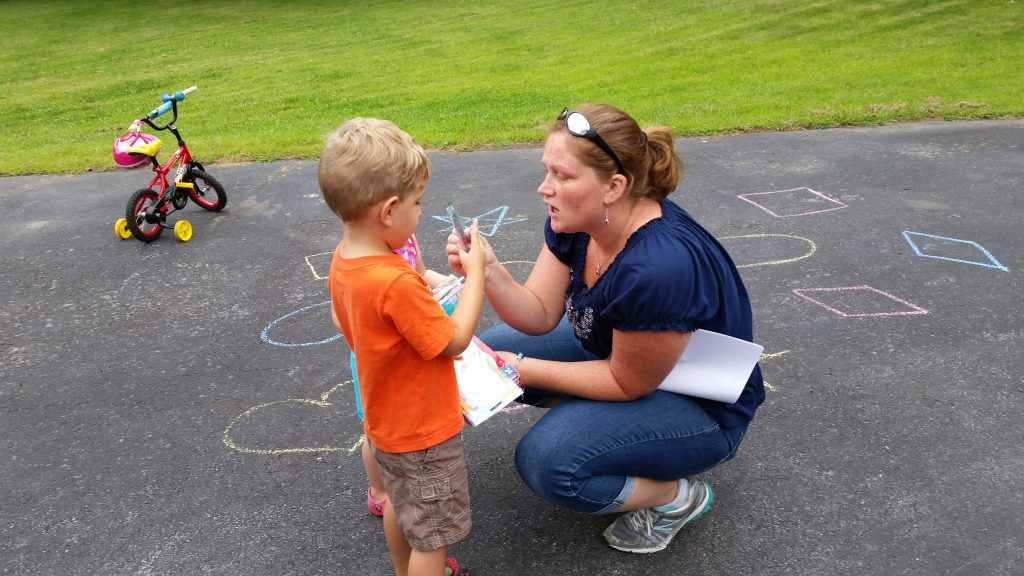 I was touched that Melissa always brought little gifts for not only my son on the holidays, but my daughter as well.  Both kids got to squee together over bubble and sticker time at the end of our sessions.  She got to know Isaac's best friend and my Mother's Helper. During her visits, Melissa updated me about all the exciting things in her life and patiently let me babble about the latest books I was reading.  She truly treated our whole family with her therapy, befriending us all, and teaching us new skills that we could do together to help Isaac.
That's his name: Isaac.  It means laughter, and I will never forget Melissa's part in helping my sweet, smily boy get one of the most precious parts of his childhood back–running around laughing.  Because he can run now, you know.
****Melissa, we love you and will always be so grateful for what you have done for our family.  So excited to see all of the wonderful ways you bless others with your talent and all of the beautiful things to come in your own life!*****
The following two tabs change content below.
Meredith blogs at The Mom of the Year, where she dedicatedly earns her title one epic parenting fail at a time, offering quick, relatable laughs for fellow parents and all their empathizers. She has been part of several best-selling anthologies, featured on prominent sites such as Huffington Post, In the Powder Room and BlogHer, and loves her role as the Executive VP/Operations Manager of The BlogU Conference. When she's not breaking up fights over Legos and juice boxes, she remains fully committed to sharing a less serious look at the world of parenting.