I vaguely remember something called a dressing room?  It was small and squarish with a privacy curtain and a bench so you could sit down.  Actually the more I think about it, it sounds like a pretty blissful place.  Perhaps I should just take my next vacation to Target and save on gassing up the minivan for the trek down to the beach…
In any case, shopping carts with toddlers don't fit well into the teeny rooms, and whiny public temper tantrums don't fit well into Mommy's desire to avoid migraines, so jaunts to these little magical portals have been tabled for the time being.  When I need to stash up on my go-to crew neck tees and Denizen jeans, I just cozy up in front of my laptop, click in through ebates and have the friendly UPS man swing by yet again.
This arrangement has worked remarkably well.
Except for when I began my fashion renaissance.
In truth, this new passion has amounted to little more than diligently paging through my People Style Watch and buying some adorable glittery sandals.  When I tried to be edgy with some Urban Decay turquoise eyeliner, I scared myself when I looked in the mirror.
And while I can read up all I want, I'm not naturally a fashionista.  I would never instinctively know that pairing a flowy floral skirt with tough ankle booties would become my definition of Suburban Mom Boss, unless a magazine editor had suggested it.
So I'm not saying it's time for this Mom of the Year to step full-force into a more vogue world.  But I have started to think that trading in my basic crew-necks for something slightly more trendy might not be terrible.  Note to self: this doesn't mean just buying the ones with the pockets and feeling diversified.
The only problem?  When I don't leave the house to shop for clothes, I never have that fun, sort-of giddy experience of seeing something adorable on the racks and trying it on just for the heck of it.  When the item was a total score and I loved it?  That was shopping at it's best.
I miss this.  I miss trying on fun things and being surprised at how cool they looked.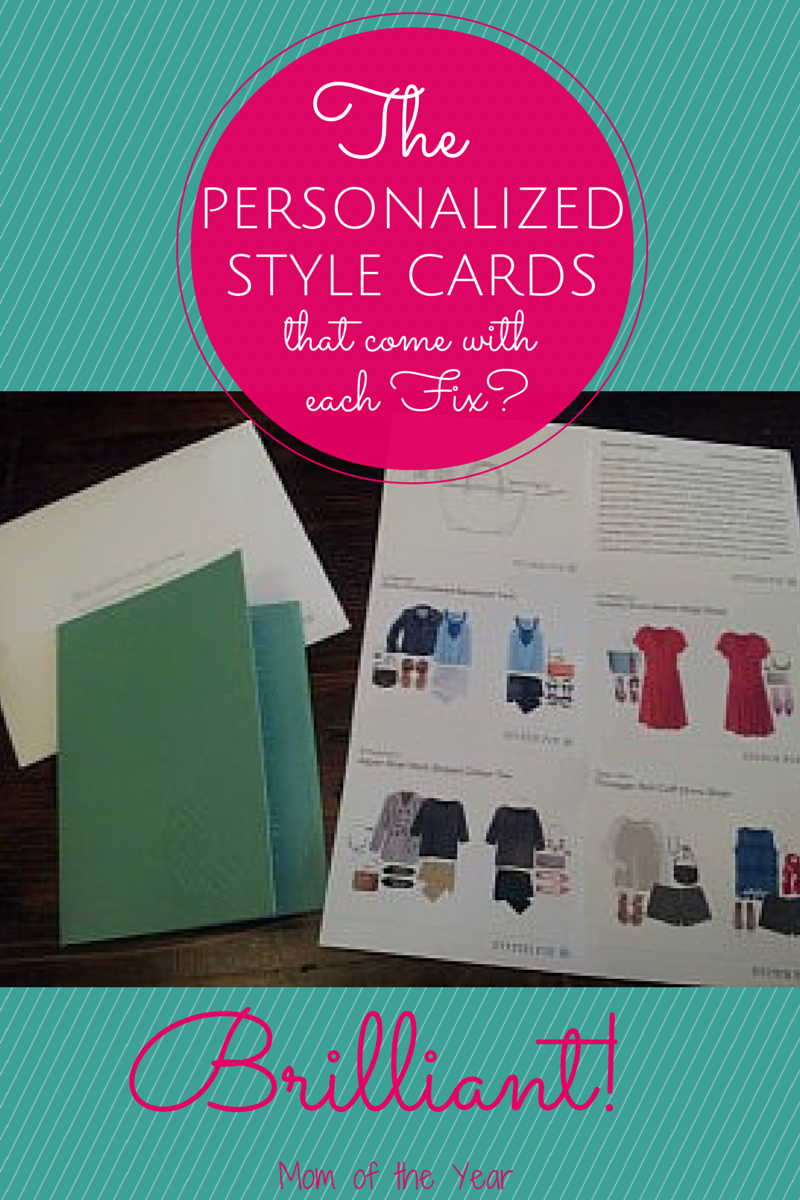 Enter StitchFix. Rock my world.
Basically, you sign up online, enter a ton of questions about your size, preferences, etc., and a personal stylist selects five items for you and ships them to your home.  You pick the frequency and the price range.  And you can keep all of the items, some of the items or ship them all back, no shipping charge.
I am so in love with this service, it's ridiculous.  When my friend Christine of More than Mommies first clued me in, I was intrigued.  My excitement only built the more I learned about StitchFix.  In the days preceding my scheduled Fix, I was like a school girl prepping for the prom: nervous, hopeful and madly texting her friends.  What would be in my box?
Then the day arrived, it came, and I was WOWED.  I was so impressed by the obviously personalized choices my stylist, Kendra, had made, and the accompanying letter she wrote suggesting how they could best be worn.  Unlike me, she knows her fashion and knows what she is doing.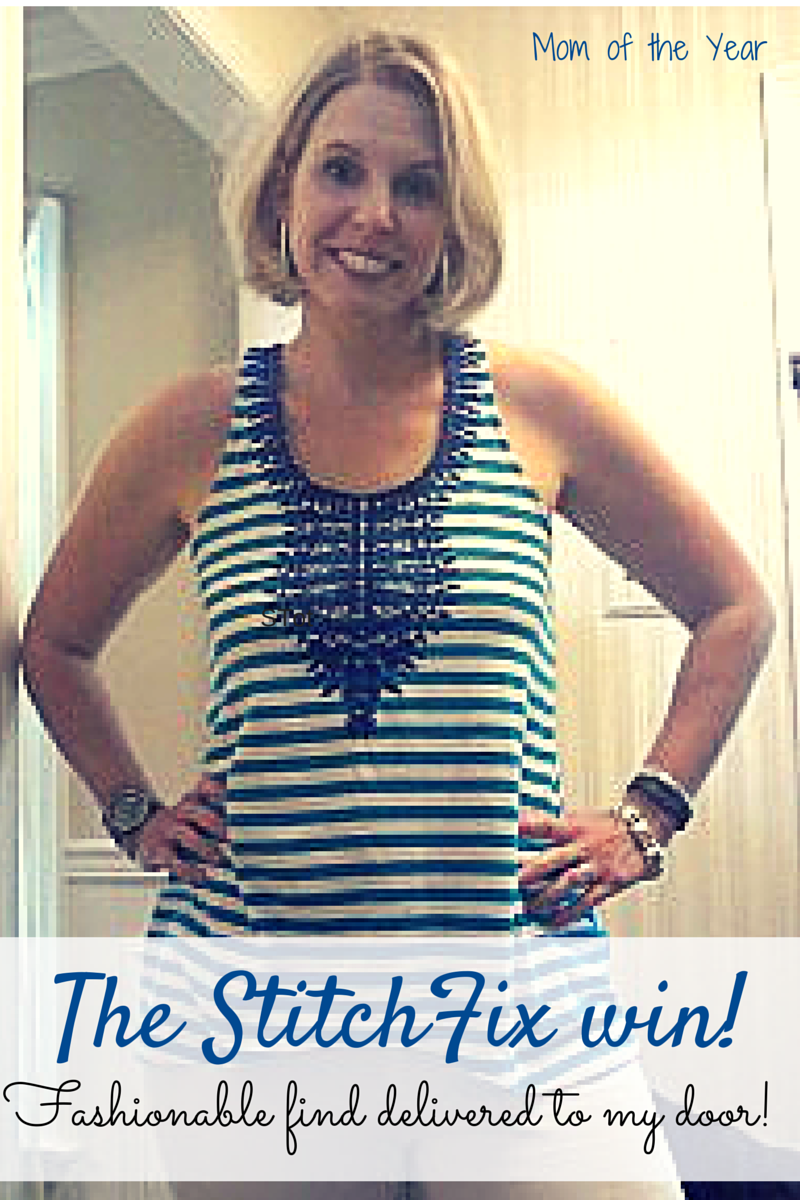 While the 25% discount for keeping all of the items is tempting, money is always tight around here.  Also, while I have hopes of losing more weight, the shorts simply didn't fit.  So after trying everything on in the delightful privacy of my own home at my leisure, I decided to just keep one item and send back the rest.
And the thing is, you communicate with your stylist about all of the items she sent: what you liked, didn't like, how the fit was, if you liked the price, etc., so StitchFix keeps getting better and better about sending you goods you will completely swoon over.  I'm tickled that I've already signed up for my second Fix and can't wait for my next box!
I'm not getting paid at all to share StitchFix with you, but I do get a nifty referral credit for each person I send their way, so if you do check this service out, pretty please hop over and sign up through my link.  I appreciate it–and then you can pass the stylish love on and share your own link with your friends!
Do something fun for yourself and treat yourself to trying on some fun new finds.  Yes, you can grow your fashion know-how from the comfort of your own living room!
Okay, I'm off to rock out my new striped tank and feel summer-fresh.  Go show your wardrobe some sunshine and happy Memorial Day, friends!
The following two tabs change content below.
Meredith blogs at The Mom of the Year, where she dedicatedly earns her title one epic parenting fail at a time, offering quick, relatable laughs for fellow parents and all their empathizers. She has been part of several best-selling anthologies, featured on prominent sites such as Huffington Post, In the Powder Room and BlogHer, and loves her role as the Executive VP/Operations Manager of The BlogU Conference. When she's not breaking up fights over Legos and juice boxes, she remains fully committed to sharing a less serious look at the world of parenting.