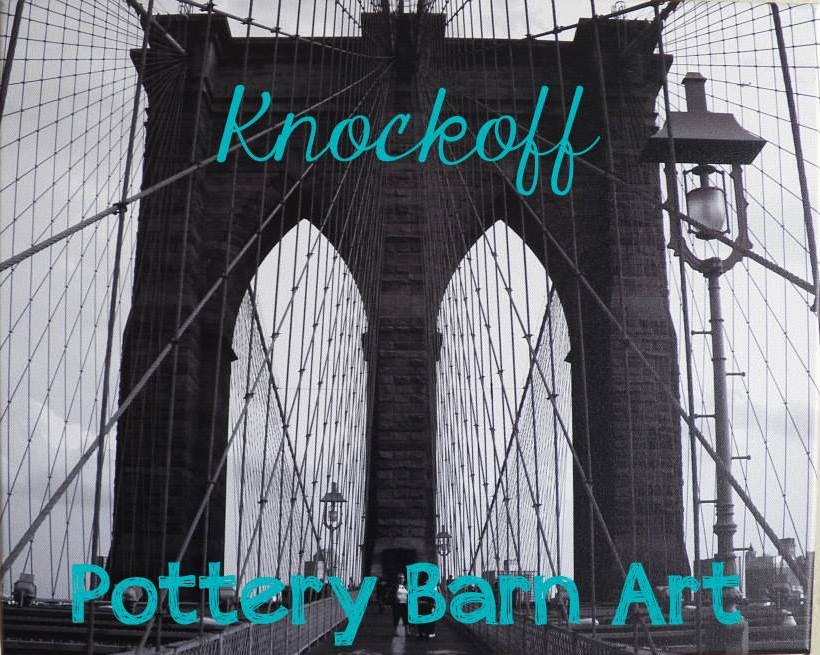 God love Alisa for coming to us in the midst of this horrid chilly winter mess, and giving us something else to think about.  Why do I love this post so much (despite the fact that Alisa outs herself as a crafter)?  It's in no way sponsored–it's just a really neat way she figured out to spruce up her walls without a ginormous price tag.  Also, without a ton of interior-decorating sense, which is something I can always relate to.  And she does it all with her trademark wicked sense of humor.  So whether you are dreaming of springtime and freshening up a bit, or need a cool, original gift for someone, check this savvy chick out!  As always, thanks, Alisa!
******************************************************************
I know, I know. Mom of the Year is not for self-described Martha Stewarts. The first rule of Mom of the Year Club is no crafting. But I have a confession to make. I'm crafty. I'm pretty handy with a hot glue gun. I may have made a tablecloth with Sharpie markers and a sheet from Wal-Mart. I sewed curtains for my kitchen windows. You get the idea.
But before you start getting all judgey or jealous about my craftiness, you should know that my skill set is limited and it does not extend into the realm of interior decorating. In fact, I'm embarrassed to admit that we've lived in our house for over two years now and there are still rooms with bare walls. I've been attempting to remedy this for quite a while now, but my lack of skills in this department continues to defeat me.
For one, interior decorating seems to fall into the same category as fashion for me. It requires both knowledge of what is fashionable and the ability to match different pieces together. Considering I can barely dress myself, interior decorating is completely out of the question. Additionally, I'm frugal. I can't stand paying big bucks on an item for which the sole purpose is looking pretty and filling empty space. (That's MY job in this family!)
Naturally, I can't avoid those bare walls forever, so I recently started browsing the Pottery Barn website looking for art inspiration. I can't afford anything from Pottery Barn, but a girl can dream right? Plus there are all kinds of websites out there with DIY projects for knock off Pottery Barn and West Elm décor. Eventually, I stumbled on this framed print of the Brooklyn Bridge from the New York Times Archive.
Cue epiphany. I've been to New York. I have even been on that bridge. In fact, I walked all the way to Brooklyn on that bridge and took pictures. I'm not a photographer, but I figured I must have at least one decent picture of it. It certainly wouldn't be New York Times quality, but it's a memory. A place I travelled. A conversation piece. I bounced the idea off my husband and he suggested that we look for a canvas print deal. Canvas prints are popular right now so companies are regularly running specials. And with a canvas print, framing would be optional.
I browsed the pictures from our New York trip until I found a winner and subsequently found a great deal through http://www.esigns.com/canvas/ for a 16 X 20 print for $30!* The framed 16 x 20 print from Pottery Barn was $300, which made the penny pincher inside squee with glee. I love a good bargain. What do you think of my fancy knock off Pottery Barn art?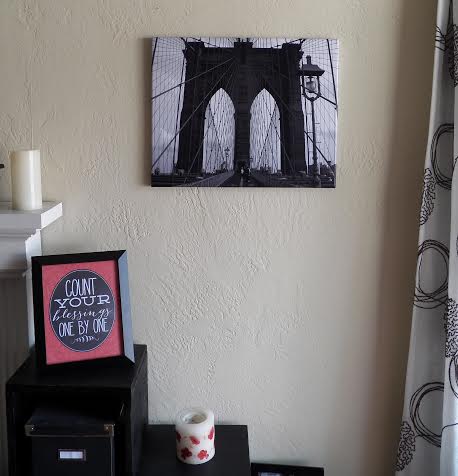 For the record, I think it's a win! I'm very happy with the quality of the print and the price. Not to mention this DIY craft project is even safe for all of you craft-phobics out there (ahem, Meredith).
*Sadly, the deal through eSigns is no longer available. But if you keep your eyes peeled, I'm sure another one will pop up should you want to create your own DIY art!
The following two tabs change content below.
Meredith blogs at The Mom of the Year, where she dedicatedly earns her title one epic parenting fail at a time, offering quick, relatable laughs for fellow parents and all their empathizers. She has been part of several best-selling anthologies, featured on prominent sites such as Huffington Post, In the Powder Room and BlogHer, and loves her role as the Executive VP/Operations Manager of The BlogU Conference. When she's not breaking up fights over Legos and juice boxes, she remains fully committed to sharing a less serious look at the world of parenting.