Every once in a while, you come across a blogger who absolutely rips your heart out with her own amazing heart.  Right now, I'm in awe of Wendy Nielsen.  This gal is The Whole Package.  See, Wendy survived breast cancer.  And then she decided not only to share her story with others, but to purposefully use her experience to inform and bless women.  Yeah, I know.  She's amazing.
Check out her story on her blog page, "Cancer and Me".  The title of this page is perfect  because so many of us have our own unique journey with this disease–it's such an individualized thing–yet we are part of a common battle.  While my mom didn't die of breast cancer (her own personal monster was liver cancer), she too was a victim of the horrid cancer beast.
For Breast Cancer Awareness month (October), Wendy is taking her mission to the next level by running a whole series in which women who have been diagnosed with breast cancer share their own stories.  I love the openness and hope that Wendy is imparting through this series.  I love that she cares enough to do this.  I love her.  Thanks, Wendy.
Below, she humored me by answering a few questions about what she's doing this October, and please take the opportunity to check in and cheer her on with this effort.  Go Wendy!
*****************************************************************************
1. Tell us a little bit about your series this month and what your goal is with sharing this.
As we all know, October is breast cancer awareness month. Personally, it's a hard time of year for me because this October marks the fifth anniversary of my own breast cancer diagnosis. Instead of promoting awareness (because aren't we pretty much aware that breast cancer exists at this point?) or re-telling what feels like my own sob story, I wanted to share someone else's story. The angle though – which aligns with my blog's theme – is how are these women writing their new stories. Yes, we've all be diagnosed with breast cancer (or some with just the breast cancer gene mutation, as you'll read) but it is what we're doing now with our lives to move forward and move beyond that unexpected chapter in our lives. The overall goal of the series is to show women who have been newly diagnosed that life gets better.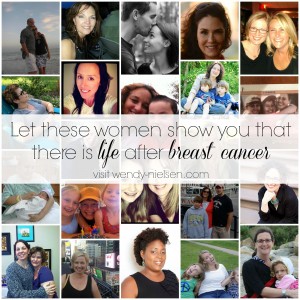 2. I love how you are open with your experience with breast cancer, and think this transparency is such a huge blessing to your readers. What lead you to sharing your personal story?
Initially, the blog was a place for me to work through what I was feeling. I didn't start writing about my experience until well after I was finished with treatment. I learned quickly that there was the community of women out there very much like myself, looking for others to connect with and in the end my goal is to simply broaden the conversation and talk about how we've been affected by breast cancer.
3. For people out there battling with breast cancer, what is the best thing we can do or say to help them? Dumb comments are the worst, so please save me from being That Person!
That's really a hard question because there are never the "right" words. I think the very best thing to say is "I'm sorry" and leave it at that. No anecdotes, no Livestrong references, no stories about someone who died from breast cancer (that might be the absolute worst thing to share and it happens, a lot). Simply, "I am sorry" and "What can I do to help?"
4. What is something we can all do right now, today, in our own lives to help the fight against breast cancer?
A healthy lifestyle with plenty of exercise and a good diet is important, obviously. I also think it's imperative that even if women don't have a history of breast cancer in their families, they need to educate themselves on knowing their risks for developing breast cancer. I don't have a family history of the disease and knowing ones risks might help avoid being blindsided by a diagnosis. I wrote about risks here.
5. What else am I missing? I am so aware that cancer is such a individual journey for each person, and you have such unique platform with being a blogger–I want to make sure to give you space to share your story and what is important to you!
I'm certainly no expert. I just want to share my experience but beyond that I think it's a fantastic opportunity to keep the conversation going. There are so many young women who have been diagnosed with breast cancer and unfortunately not a lot of long term studies indicating cure rates or data telling us what we should do or what to expect. If sharing my experience leads me to meeting someone else with a similar experience, then the result is building a community of knowledge and hope and getting through it together.
***************************************************************************************************
Thank you so much for sharing, Wendy!  We love you!  Readers, please show your support of this sweet mama!
​
The following two tabs change content below.
Meredith blogs at The Mom of the Year, where she dedicatedly earns her title one epic parenting fail at a time, offering quick, relatable laughs for fellow parents and all their empathizers. She has been part of several best-selling anthologies, featured on prominent sites such as Huffington Post, In the Powder Room and BlogHer, and loves her role as the Executive VP/Operations Manager of The BlogU Conference. When she's not breaking up fights over Legos and juice boxes, she remains fully committed to sharing a less serious look at the world of parenting.