Friends, we've been hanging out long enough that I think it's time I told you the truth.  There is a third party in my marriage and I'm in love.  In all honesty, I have loved them longer than I have loved my husband.
Picture it.  A young gal set off to realize her college dreams armed with a groovy comforter set, a ton of uneducated optimism and THE MOST FANTASTIC PAIR OF SHORTS KNOWN TO MAN.  Remember that hip brand, Esprit?  Yeah, that brand.  If you have no idea what I'm talking about, go embrace your youth and do a cartwheel.  We aged folks will be sitting here, reminiscing about our pastel canvas shoulder bags.
In any case, these shorts, in all their mixed print glory, found their way into my wardrobe and together we treked off to change the world.  Somewhere along the way, we got messed up with my husband who wasn't a huge fan of The Shorts.  Foolish man.  Doesn't recognize beauty when he sees it.  His loss.
The Shorts and I pressed on together, finding our way through graduations, marriage and first babies.  The Shorts have never failed me.  Despite drastically fluctuating weight over the years, they have always fit.  They have always been a comfortable high-waisted homecoming and fashionable refuge in the storm of life.  The varied fabrics allow them to casually complement any top with ease and class.  Versatile perfection.
I understand their longevity to be a sign from God.  That they have withheld their form over the years clearly indicates continued wearing is divine intention.  Fraying be eschewed; The Shorts don't age and are clearly made of The Real Stuff of Life.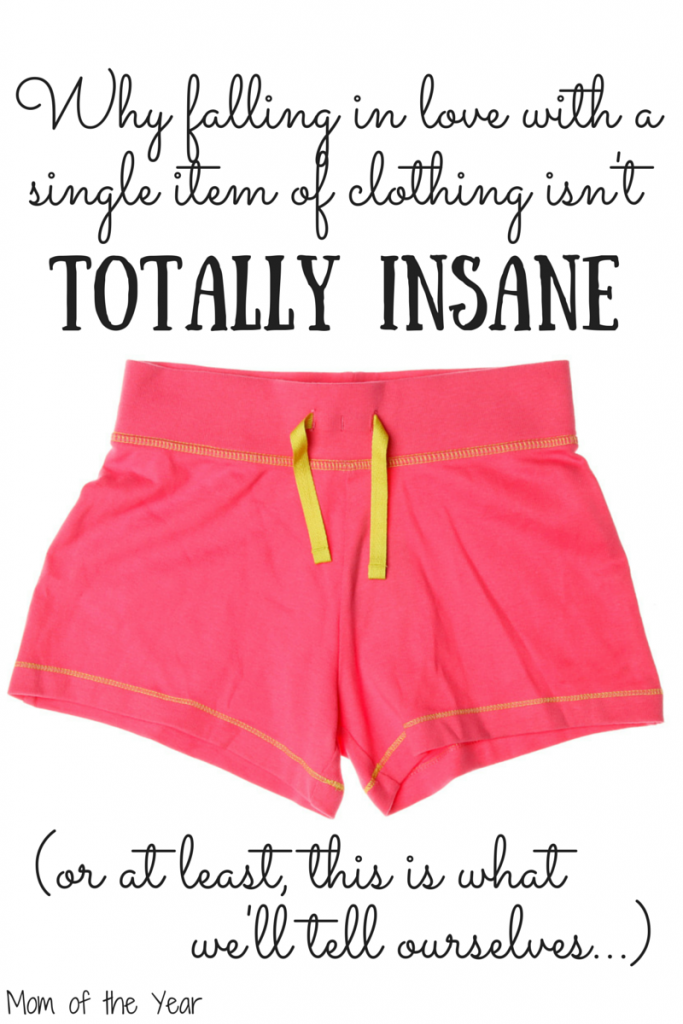 In recent years, we have made friends who I felt close enough with to introduce The Shorts.  I rocked them one evening on a double date, and I won't understate; their open-mouth gaping was clearly pure awe and wonder. When they asked my how often I rock The Shorts, my husband astutely noted, "Not often enough to have prevented procreation."  Pshaw, Babe, we both know they have only helped heat things up.
Clothing trends can come and go.  Keep your Vogue magazine and just leave me to my peace of falling deeper in love with My Shorts. The resilient elastic waistband and I adore each other.
Please meet the one great love of my life.
(second image credit: depositphotos.com, Image ID:47937967, Copyright:xtrekx)
The following two tabs change content below.
Meredith blogs at The Mom of the Year, where she dedicatedly earns her title one epic parenting fail at a time, offering quick, relatable laughs for fellow parents and all their empathizers. She has been part of several best-selling anthologies, featured on prominent sites such as Huffington Post, In the Powder Room and BlogHer, and loves her role as the Executive VP/Operations Manager of The BlogU Conference. When she's not breaking up fights over Legos and juice boxes, she remains fully committed to sharing a less serious look at the world of parenting.