Yes!  Today is the day, the first Wednesday of the month, the day we all get to laugh away with Finding the Funny.  And super-special cool news–this month we are bringing you a chance to win a custom facebook cover!  (My brain hurts as I try to figure out a way to throw the Rafflecopter and win this for myself).
All the details for the giveaway are below, but first I had to share a story with you.  Because it happened.
For my husband's birthday this week he wanted to go to a local buffet breakfast place (for the sheer reason you get to eat free on your birthday, of course).  I've got the empathy of most parents with the word "buffet".  Let's just say I worked all those sympathy "Where did your husband go, you poor woman?" stares as I tried to get coffee while juggling my daughter and the diaper bag.
The worst part came however when my daughter took a dump in the middle of the meal.  We have a general free-pass-on-your-birthday policy, so I was up.  I grabbed the diaper bag and trekked off with her to the bathroom.  As luck would have it, she had eaten blueberries the day before.  Anyone who has ever given your baby blueberries understands that this not only turns their poop flourescent blue, but makes the poop take on a glue-like consistency.  Which forces you to go through an entire pack of wipes while your child screams as you scrape crap off her bottom.  Blueberries now banned.
After we got this situation sorted, I put her down.  Unfortunately, her foot caught in the diaper bag handle and she fell face forward onto the bathroom floor.  This caused her to drop her beloved Minnie sippy cup which shot directly into the handicap stall in front of us.  More unfortunately, there was someone using the stall.  Who was handicapped.  And who I imagine was having difficulty enough just navigating the toileting process without having to get up, walk over, bend down and get my daughter's sippy cup.
I profusely apologized.
The poor woman said "it's okay".  In the kind of way you knew it was anything but okay.
My daughter screamed and screamed, "MY MILK" in her scary "I'm angry" Darth Vader voice.
And we waited.  And waited.
It was an awkward situation.
I could not get in to get the milk, the woman could not get up to get the milk, and my daughter could not live without her milk.
This was not a happy scenario.
Finally, the woman's daughter came to the rescue, praise God.  Minnie cup was rescued, sanitized and my husband was informed that free birthday smorgasboard or not, there will be no further insane attempts to leave our house until our children are in college.
Also, breakfast restaurants should hand out full-body suits to families with children.  I had no idea it was possible to get that much sticky syrup between my toes.
**********************************************************************************************
Before we get started with June's Finding the Funny, I'm teaming up with a few of my co-hosts to bring you an awesome giveaway!
Sara from Cormier Creative is a fabulous graphic designer and has helped countless women bring their blog (and brand) to the next level.
She recently gave Anna at My Life and Kids a total brand makeover (see her magic here) and today, she's giving away a FREE Facebook cover design to one of you.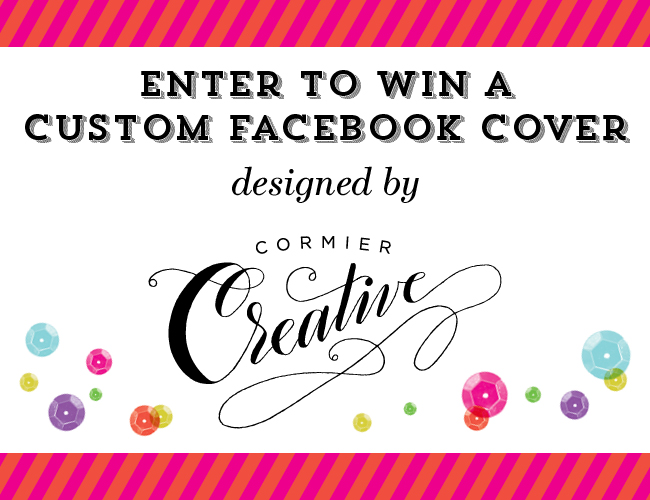 Use the Rafflecopter form below to enter. (And be sure to visit Sara at Cormier Creative!) Giveaway ends on Sunday, June 16 at midnight.
June Finding the Funny
Meet the Hosts Anna @ My Life and Kids Kelley @ Kelley's Break Room Robyn @ Hollow Tree Ventures Kerry @ HouseTalkN Julie @ I Like Beer and Babies Keesha @ Mom's New Stage Meredith @ The Mom of the Year Anna @ Random Handprints Ellen and Erin @ Sisterhood of the Sensible Moms Toulouse @ Toulouse and Tonic
The Rules
Link up an old or new funny post. Link up as many times as you want (we're serious.) The party is open until Friday at midnight. The earlier you link up, the more clicks you'll get. Click around and meet the other funny bloggers that are linking up. Follow the Finding the Funny Pinterest board. We'll all be pinning our favorites throughout the month. We don't ask you to link back to us or include a button on your blog, but we do ask you to send out a tweet or post about the party on your Facebook page. Be sure to use #findingthefunny.
Loading InLinkz …
The following two tabs change content below.
Meredith blogs at The Mom of the Year, where she dedicatedly earns her title one epic parenting fail at a time, offering quick, relatable laughs for fellow parents and all their empathizers. She has been part of several best-selling anthologies, featured on prominent sites such as Huffington Post, In the Powder Room and BlogHer, and loves her role as the Executive VP/Operations Manager of The BlogU Conference. When she's not breaking up fights over Legos and juice boxes, she remains fully committed to sharing a less serious look at the world of parenting.