I'm in book.  I'M ACTUALLY IN A BOOK, and basically my poor husband will hear about nothing else for the foreseeable future.  In general, the gist of our conversations:
Husband: "Can you pass the salt?"
Me: "You seriously are going to talk to me without even congratulating me on the book?"
Or, if I'm feeling especially sultry…
Husband: "I'm exhausted.  I can barely keep my eyes open, I'm going to bed."
Me: "Uh huh.  I get it.  I would be nervous about sleeping with a world-renowned author too." (opportunities to sleep with published writers around here are rare).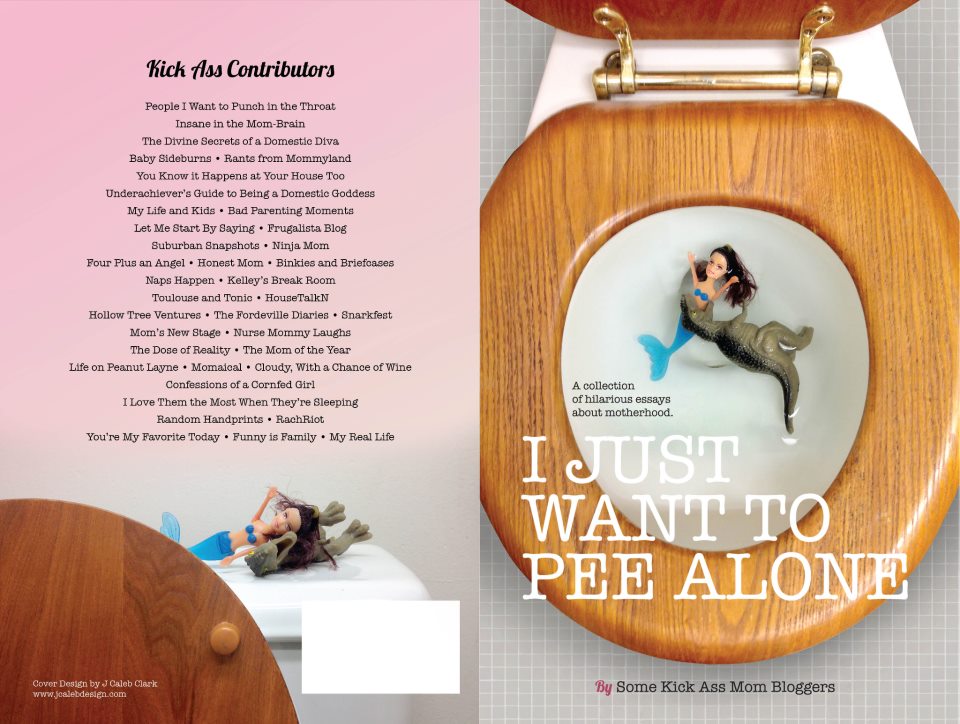 Perhaps "world-renowned" might be a tad of an overstatement, but hey, in my world, this feels like a huge deal!  What's the story?  Jen of People I Want to Punch in the Throat got a bunch of contributions from some very, very funny mom bloggers and put them together in a book.  She slapped a perfect title on it, "I Just Want to Pee Alone", and got it published.  By the grace of God, I eked in to this group and have been over the moon since.
The book is a collection of hilarious essays by so many of the ladies I love in this blogging world (see the full list below).  The thing of it is: motherhood is hard.  Really hard.  And the old adage rings so true: if you can't laugh about it, then you'll cry.  So let's just laugh.
Personally, I'm incredibly grateful to Jen for giving me the opportunity to tell my story.  So, what is my tale that has me snorting every time I think of it?  It's the story of the week after my mother's death.  (I'll wait while you go re-read that).  It doesn't seem probable, but it was the funniest week of my life.  Without this book, I may have never pushed myself to tell it, but I'm so glad I did.  If you can garner up a little fortitude against some irreverence, I'd love for you to check it out.
Heck, I'd love for you to buy the book and read the whole thing!  It's on Amazon and iTunes right now, and will be more places soon.  If you want to grab the paperback or the Kindle edition for Amazon, just click on the button to the right and it will take you right there so you can snatch it up.
And stay tuned because rumor has it that 10 copies of this book are going be given away right here very soon (read: check in tomorrow!).
My husband will continue accepting all offers of sympathy while he deals with my excitable hysteria and perhaps slightly over-inflated ego in the days to come.   Yes fine, I may have snapped at him when the box of books arrived at our doorstep and he didn't ask for my signature on our copy within 5 seconds of opening the package.  Respect the dream-come-true, okay?
These are all of the lovely ladies I get to hang out with in this book:
People I Want to Punch in the Throat
Insane in the Mom Brain
The Divine Secrets of a Domestic Diva
Baby Sideburns
Rants From Mommyland
You Know it Happens at Your House Too
The Underachiever's Guide to Being a Domestic Goddess
My Life and Kids
Bad Parenting Moments
Let Me Start By Saying
Frugalista Blog
Suburban Snapshots
Ninja Mom
Four Plus an Angel
Honest Mom
Binkies and Briefcases
Naps Happen
Kelley's Break Room
Toulouse & Tonic
HouseTalkN
Hollow Tree Ventures
The Fordeville Diaries
Snarkfest
Mom's New Stage
Nurse Mommy Laughs
The Dose of Reality
Life on Peanut Layne
Momaical
Cloudy, With a Chance of Wine
Confessions of a Cornfed Girl
I Love Them Most When They're Sleeping
Random Handprints
RachRiot
You're My Favorite Today
Funny is Family
My Real Life
The following two tabs change content below.
Meredith blogs at The Mom of the Year, where she dedicatedly earns her title one epic parenting fail at a time, offering quick, relatable laughs for fellow parents and all their empathizers. She has been part of several best-selling anthologies, featured on prominent sites such as Huffington Post, In the Powder Room and BlogHer, and loves her role as the Executive VP/Operations Manager of The BlogU Conference. When she's not breaking up fights over Legos and juice boxes, she remains fully committed to sharing a less serious look at the world of parenting.