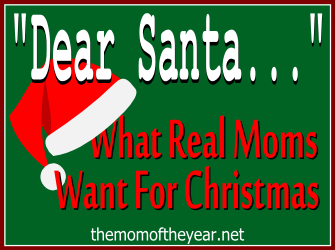 Anyone else loving the holiday quadrant vest they got last year for Christmas?  The time for cheerfully knitted scenes of snowmen at play is over.  Listen up, Santa, because this year we're telling you want we really want for Christmas.  You can try to run and hide, but as I've learned myself, it's best to behold the powerful force of mom bloggers and just give them what they want.
I took it to the streets (or rather, to the depths my laptop will reach during naptime) and asked some of my favorite mom bloggers (and the most awesome guy blogger I know too–mom blogging is very gender-inclusive, of course) to tell me what the Big Guy needs to bring them this year.  I don't want to name-drop, so let me pause and pretend I'm above this for a few seconds…Okay, will just strongly hint that we may be hearing from the likes of The Bloggess and Scary Mommy themselves!  (Yes, I am so excited, I'm peeing my pants a little).
Look forward to one post of some seriously funny requests per week throughout the holiday season  And if you've got something Santa needs to hear, please add your own note below.  We want to hear from you!  The quadrant vest is banned and dreams are coming true this season, so join in the fun.
To kick it all off, I'll share my own humble Christmas wish:
Dear Santa,
I want one product.  As in, ONE.  As in, it's gotten to the point when I sleepily prep myself for bed at night or crazily slam through the morning mad dash, I have absolutely no idea what I'm putting on my face or in my hair.  It is very possible that the new styling gel I've been using for 5 months is indeed toothpaste.  Can you please fix this?  I'd like one magical product that can do it all.  My husband will be extremely grateful for the friendly pat to our budget and I'm pretty sure my bathroom cabinet will forever love you for lessening its excessive product weight burden.
Thanks, Big Guy,
Yours Truly, The Mom of the Year
****************************
First up is Bad Parenting Moments with one of the most practical suggestions I've heard in ages:
Dear Santa,
I would like a water cooler filled with wine and a monthly home delivery refill service. I have been a very good girl this year…mostly. 
Very Truly Yours,
**************************************************************
Kathy took the time to cover it all in a sweet poem:
Dear Santa,
I can't believe it's time to start setting up the tree.
I need just a few things so that my family will stay happy with me.
Some sleep would be nice, and a meal that's not cold as ice.
How about a neck that's not pained and eyes that aren't strained?
I'd like a butt that doesn't sag and eyes that don't bag.
And how about a bra that fits for my new low-hanging bits?
I don't need much, Santa, don't you see?
Well, maybe just a vacation all for little 'ole me.
Kathy (Mommy Frog) of  Kissing the Frog
**************************************************************************
Robyn is asking you to just do your job, for pity's sake, but kindly, she does offer to help with some of the cookie-eating responsibilities.  You're welcome.
Dear Santa,
This year, I'd like for you to actually do all the things for my kids that you always get credit for. That includes finding perfect gifts, fighting the crowds to get them at a reasonable price, paying for them, hiding them, wrapping them, and making sure they magically appear on Christmas morning, all while never spoiling the surprise. I can't claim that I was very good this year, but let's face it – you owe me.
Thanks,
P.S. I'll still take care of eating the cookies the kids leave out, though.
******************************************************************************************
Allison speaks the universal yearning for quiet shared by mothers everywhere:
Dear Santa:
All I want for Christmas is a pause button that I can use on my kids to make them just STOP and BE QUIET once in awhile. I promise to use it sparingly. OK, I promise to sometimes not use it. 
Thanks!, 
**************************************************
Janene has got the stuff that really matters all spelled out:
Dear Santa:
This year for Christmas, I would love if you could arrange for the following: 1)  Socks that have some kind of magnetic attraction to each other.  That way when one is under the bed and the other under the couch they can somehow find one another in time for the school bus.2)    A closet that I can walk into through one door as "tired-yoga-pants-wearing-mama" and walk out the other door as "too-hot-to-handle-yowza-mama" – It has to happen in a fraction of seconds so that my children don't have time to interrupt the process.3)   Chocolate that makes you lose weight and gain muscle.4)  A clock that I can use to alter time:  You know . . . fast forward through the bad times, slow down the good times and freeze those moments that I wish would never end.I swear that I've been a "good girl" this year and totally deserve all of these things! Thanks so much . . . oh, and of course, I totally understand if our family "allowance" for presents has already been blown on the 4 tablets, Kindle Fires or what ever it is that my children have decided to ask you for this Christmas.  That's fine with me . . . after all, the only think I REALLY want for Christmas is the laughter, smiles and possibly a hug or two from each of them.
Love,
*********************************************************************************
How come you get all the credit?  Jen is calling you out:
Dear Santa,
You suck. Why do you get to bring Lego Death Stars and American Girl dolls while I get to give socks and toothbrushes? I'm thinking of offing you this year and finally getting the credit that is due to me. Watch your back, big guy.
Jen at People I Want to Punch in the Throat
Also, Santa, you may have missed this while holing up at the North Pole, but Jen's book, Spending the Holidays with People I Want to Punch in the Throat, just came out here.  You'll want to grab a copy for yourself here and then stock up so you can get gift one to everyone on your list (yes, that will probably be quite a few books).
************************************************************************
Laura is just asking for some advice.  Please don't be so stingy with hoarding your wisdom.
Dear Santa,
My name is Laura. You don't know me. Because I'm Jewish, I've never written you a letter before. As such, I'm certainly in no position to ask you for gifts. But would it be too much for me to ask you to share some of your wisdom? I need to know how you manage to be so efficient with your gift giving, when I can barely manage a trip with my daughter to the grocery store without losing a mitten, or a hat, or my mind. I'm also impressed by your ability to stuff yourself down all those chimneys. I'd love to know how you do it, because I think it would help me figure out how to get into my skinny jeans when I've eaten too much peanut butter. I don't expect you to disclose all your yuletide secrets, but it'd be great if you could share some of your creativity and your tips. Are you on Pinterest?
Sincerely,
Laura from Stroller Parking Only
PS. I left cookies out for you…but then I ate them.
****************************************************
Janine is only requesting an eentsy bit of peace and quiet:
Dear Santa,
What I would really like more than anything in this world is a vacation from all the noise and chaos that I could have never imagined two small little girls being capable. of.  That said even five minutes of peace and quiet, I don't think is too much to ask for.  If you can't see it in your heart to supply me with that, then can you at least bring me a shiny, new pair of ear plugs, pretty please with sugar on top!!
Always,
Janine from Janine's Confessions of a Mommyaholic
******************************************************************
And to finish out the week, would you mind freezing time a bit for AnnMarie?:
Dear Santa,
This year I'd like the stress that raising a teenager causes to burn the calories that walking on my treadmill is obviously not. It would be nice that if I am stressed out all the time and look like a mess, I'd at least be a fit mess.
You know that thing that freezes time so that you can deliver the gifts to all of the children of the world in one night? I'd like that a few times a year so that I can get this house clean and all the laundry done.
Can I get a remote that works on people? You know, mutes the whining (or the moms that brag about their kids or act like it is all rainbows and butterflies), pauses the cuteness (or the moments they are sleeping), fast forwards through homework (or time spent with in-laws) . That would be really, really great.
AnnMarie from Tidbits from the Queen of Chaos
*****************************************************
Stay tuned for next week when more mom bloggers tell us what would really rock their world.  Keep those ears perked, Santa, because we've got some stuff we really want!
The following two tabs change content below.
Meredith blogs at The Mom of the Year, where she dedicatedly earns her title one epic parenting fail at a time, offering quick, relatable laughs for fellow parents and all their empathizers. She has been part of several best-selling anthologies, featured on prominent sites such as Huffington Post, In the Powder Room and BlogHer, and loves her role as the Executive VP/Operations Manager of The BlogU Conference. When she's not breaking up fights over Legos and juice boxes, she remains fully committed to sharing a less serious look at the world of parenting.