Since I don't have a super-cool holiday tale of my own to share,  I turn to awesome people like Jen of People I Want to Punch in the Throat for belly-rolling laughs.  I'm thrilled to spread some holiday cheer and join some amazing bloggers to share her fantastic new book today, which you'll read all about below.  Did I mention a bunch of copies of the book are being given away and a Kindle Fire?!  And if you aren't one of the lucky winners, grab your own copy here.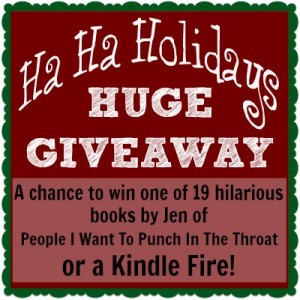 The best personal holiday funny I can offer you is a true confession that I am Christmas-tree challenged. What does this mean, you ask?  While one of the most fun delights in this world for me is cozying up by the beautifully lit Christmas tree, chances are, if I get within 10 feet of one, something might go wrong.  Very wrong.
There was the year that my family's tree fell over in it's entirety on Christmas Eve.  Late on Christmas Eve, and it required complete redecoration.  Oh what fun.
One Christmas my dog ate the tree.  This doesn't sound possible, does it?  It is.  The first year my husband and I were married, we had made handmade gingerbread man ornaments.  Several years later, enter our psychotic chocolate lab and an evening that both my husband and I had to work.  Not only had the dear poochie scarfed all of the aged gingerbread men, but most of the tree as well.  He was furious with us for at least a week as all of that Christmas festivity ripped through his little canine digestive system.
Years ago we were living in a second floor apartment and discovered an hour before our hosting our large annual Christmas party that our new plastic tree stand had sprung a leak and soaked through the floor boards.  Not to mention destroying all of the wrapped Christmas presents underneath the tree.
And I probably should mention the time I accidentally lost my wedding ring in the Christmas tree (let's not get into how this happened) and we had to spend the afternoon undecorating the tree just to try and find the ring.  My husband might still be a little miffy over this.
Anyway, the bottom line is–it may just be best to keep me away from Christmas trees,  and it's probably high time to turn this over to some discussion of some real holiday humor…
*************************************************************************************
Guess what?
Nineteen of your favorite mom humor bloggers had a meeting and we all agreed. There's a brand new book that we think you NEED to read this holiday season. The title says it all.
Spending The Holidays With People I Want To Punch In The Throat is a heartwarming (yes, really!) collection of hilarious holiday-themed personal stories and observations written by none other than Jen of the well-known blog People I Want To Punch In The Throat.
If the holidays have you stressing about gift giving, cookie decorating, or where in the world to put your Elf on the Shelf, then you need to take a mommy time out and read a chapter or two.
And now you can have a chance to peruse the pages for free. Consider it our holiday gift to you. We are teaming up to give away 19 copies of the book. All you have to do is enter the giveaway using the Rafflecopter form below for your chance to win an AUTOGRAPHED copy!
Jen generously donated an autographed copy to every blogger participating in this giveaway so that we could increase your chances to win. You can enter using the Rafflecopter below.
This giveaway is open to  48-contingent-states USA residents only. Contest closes at 12:01am ET on November 21.  
"But wait, that's not all!" we say in our best Price is Right announcer voice. We couldn't get a bunch of tech-savvy moms together for a book giveaway and not bring you an eReader, right? So we are also giving away a Kindle Fire!
NINETEEN winners will receive a copy of Spending The Holidays With People I Want To Punch In The Throat and ONE lucky Grand Prize winner will receive a Kindle Fire! What are you waiting for? Get clicking!
I received a free copy of Spending the Holidays with People I Want to Punch in the Throat as part as my participation in this giveaway.
The following two tabs change content below.
Meredith blogs at The Mom of the Year, where she dedicatedly earns her title one epic parenting fail at a time, offering quick, relatable laughs for fellow parents and all their empathizers. She has been part of several best-selling anthologies, featured on prominent sites such as Huffington Post, In the Powder Room and BlogHer, and loves her role as the Executive VP/Operations Manager of The BlogU Conference. When she's not breaking up fights over Legos and juice boxes, she remains fully committed to sharing a less serious look at the world of parenting.