Can you feel it, friends? That nudge of Springtime in the air? With this wild weather we've been having, sometimes it feels like we're already there! Regardless of the season, Carrie of Normal Level of Crazy and I are still hard at work enjoying our books, and as always, love chatting our latest read here with all of you. After hearing that Thirteen Reason Why was being made into a Netflix show, premiering at the end of March, we were intrigued to check out this best-selling young adult novel. Have you read it? Are you looking forward to the show? Hop in the discussion below for our Thirteen Reasons Why Book Club and share your thoughts!
(many adapted from the publisher's accompanying discussion included in the book)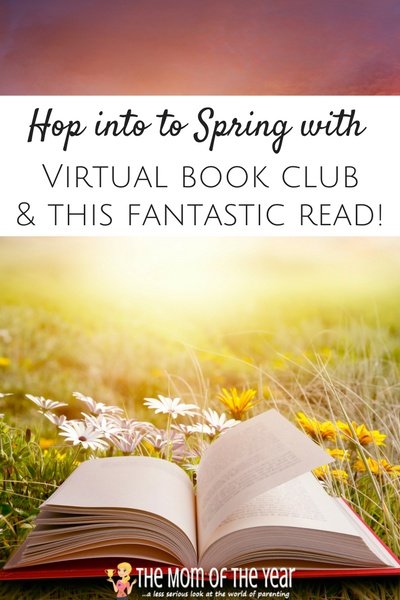 1. Kicking off with a big question, who is responsible for Hannah's death?
My answer to this may not be the popular one, but…she is. Hannah was dealt some rough cards, for sure, all of which she well explains, but she chose her response to life circumstances. It was not predetermined for her.
2. Consider the title of the novel. Are each of Hannah's thirteen reasons of equal importance? Which do you find to be the most unexpected? 
I definitely did not find all thirteen reasons to be of equal weight. To me, many of them felt like far less slights than ones that would have truly rocked Hannah's world. And I still don't understand why she included Clay in the tapes. Hannah herself notes that he doesn't fit, "One of these things is not like the other", so why did she have to put him through the same fear and trepidation as the others on her list?
3. Speaking of the tapes, why do you think that Hannah chooses to record her conversation with Mr. Porter rather than comment on their interaction afterwards like she had done with the twelve previous stories? Does this tactic have a different effect?
I think it's a very effective way to let the circumstances speak for themselves as the final chapter to her story, but Hannah was only able to use this tactic for two reasons: she had already decided to make the tapes before she spoke to him and her interaction with him was a one-off, a singular event able to be recorded versus an ongoing interaction that worked to shape one of her thirteen reasons.
4. The inside of the book jacket for Thirteen Reasons Why pictures a replica of the map that Hannah leaves for each of the people named on her tapes. Why was it important for Hannah to share this map? Does being able to visually trace Clay's route through town add to your reading experience?
Until I read this question at the end of the book, I had no idea the map was on the book jacket! Fun to find, but wonder if being able to follow along as I read the novel would have helped? I struggled with the map. I didn't really feel as though it helped progress the storyline for me, which is what I am assuming the author intended to do by integrating it into the story? Please share if you have thoughts on this one–help me understand!
5. Discuss the phrase "The truth will set you free." How does this apply to the story Hannah tells? Does truth really gift freedom? Is there power in knowing? Is there always peace in knowledge?
There is definitely not always peace in knowing! The truth can be very hurtful and upsetting at times. Similarly, truth can sometimes bring freedom and power, but not always. Truth is a fact, but the effect truth has is a variable. I think in this instance, being able to share the truth as she understood it was a way for Hannah to free herself from a burden and allow her to feel understood by others. So with this understanding, the truth did set her free.
6. Discuss the adults in this book. Did Clay's mother do the right thing by allowing him the space to explore the tapes that night. What was Hannah's parents role as her story unfolded? Do you think any adult could have done something that would have helped Hannah? Why does she open the truth of her story to only one adult, Mr. Porter in particular?
As a mom, it was hard for me to read about the space Clay's mother gave him–I think I would be far more pushy in wanting to know where my son was and what he was doing. However, I do think kids need to be given space to sort themselves. If Clay and his mom had established a relationship of trust, it would be an appropriate choice to let him have that space (with parameters in place, of course).
As far as Hannah's parents–where were they?? Seriously. I understand my children aren't yet teenagers, so I can't speak to this, but it seemed as if they had no clue or involvement in their daughter's life.
As far as Mr. Porter, my best guess is that at that point Hannah had already largely made her decision. It felt like she was going through the motions of protocol, allowing this life one last chance to save her, so when it failed, she could officially give herself permission to go.
7. Could anything have saved Hannah? If one link in this chain of events had been different, which one do you think would have made the most difference for Hannah? How would a change in that specific event have impacted the remaining portion of the other thirteen reasons that followed?
I would say that almost any point during the chain of events, one positive interaction could have helped the ship change course, but I feel like Hannah had that opportunity with Clay and denied it. Honestly, I feel irritated with her because it was as if she made up her mind without truly giving life a chance. Did anyone else feel this way?
8. I loved all the extra features the Deluxe Tenth Anniversary Edition I was sent for review included (thank you, Razorbill Books!), most specifically, the original ending. Did anyone else read this? What did you think?
*spoiler alert* I liked the original ending far more than the published ending. Of course, I liked that Hannah lived and was given another shot at this earth. I also really liked the idea that her second chance at life was one that was able to start fresh, after she had aired all her secrets and pain. Of course, it managing all the confrontation she stirred would be very difficult, but as we just discussed above, airing her truth did set her free.
9. What will you remember from reading this novel?
Feeling unsettled, as odd as that may sound. Unsettled that a girl was in such pain and no one noticed. Unsettled that she so intricately planned revenge and it was so flawlessly executed from the grave. Unsettled by the entire tale, for while it was excellently written, it was exceedingly dark.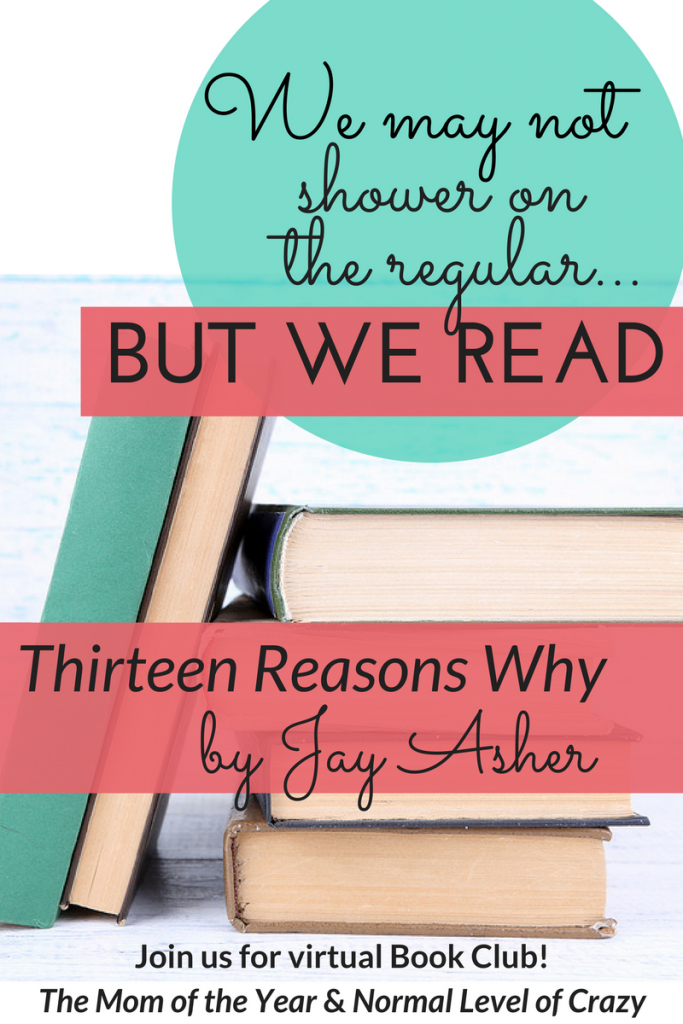 And then, a bonus question for this Thirteen Reasons Why Book Club…I didn't like this book, but I gave it a high rating on Goodreads, because it was very well written and crafted. Do you agree it's possible to think a book is good without liking it?
I didn't like the book because I don't enjoy reading dark tales, so while it isn't a story I enjoy, I very much appreciated the quality of the novel. I often find this to be the case with some of the best books I have read!
For March, we are moving on to a lighter read, My (Not So) Perfect Life by Sophie Kinsella. And as always, we have a copy of this book up for grabs! As long as you are 18 or older and live in the continental United States, you are eligible to win. To enter, leave a comment on this blog post before 3/10/17 at 5:30am EST.
Read the book synopisis below and then get ready to dig into this warm-hearted read with us!
Everywhere Katie Brenner looks, someone else is living the life she longs for, particularly her boss, Demeter Farlowe. Demeter is brilliant and creative, lives with her perfect family in a posh townhouse, and wears the coolest clothes. Katie's life, meanwhile, is a daily struggle—from her dismal rental to her oddball flatmates to the tense office politics she's trying to negotiate. No wonder Katie takes refuge in not-quite-true Instagram posts, especially as she's desperate to make her dad proud.
Then, just as she's finding her feet—not to mention a possible new romance—the worst happens. Demeter fires Katie. Shattered but determined to stay positive, Katie retreats to her family's farm in Somerset to help them set up a vacation business. London has never seemed so far away—until Demeter unexpectedly turns up as a guest. Secrets are spilled and relationships rejiggered, and as the stakes for Katie's future get higher, she must question her own assumptions about what makes for a truly meaningful life.
Sophie Kinsella is celebrated for her vibrant, relatable characters and her great storytelling gifts. Now she returns with all of the wit, warmth, and wisdom that are the hallmarks of her bestsellers to spin this fresh, modern story about presenting the perfect life when the reality is far from the truth.
Doesn't it sound lovely and fun? We can't wait to read! Thanks for joining us for this
Thirteen Reasons Why
Book Club, and don't forget to leave a comment below for a chance to win a copy of
My (Not So) Perfect Life
! Happy early Spring reading, friends!
****Thank you to Razorbill Books for providing copies of Thirteen Reasons Why for review purposes. All opinions of this book are entirely our own.****
First image credit: depositphotos.com, image ID:54259615, copyright:stillfx
The following two tabs change content below.
Meredith blogs at The Mom of the Year, where she dedicatedly earns her title one epic parenting fail at a time, offering quick, relatable laughs for fellow parents and all their empathizers. She has been part of several best-selling anthologies, featured on prominent sites such as Huffington Post, In the Powder Room and BlogHer, and loves her role as the Executive VP/Operations Manager of The BlogU Conference. When she's not breaking up fights over Legos and juice boxes, she remains fully committed to sharing a less serious look at the world of parenting.