Thank you to Mochi for sponsoring this post so I could fill you in on this fun screen-free coding for kids!
I'll be the first to wave the white flag and admit that this lockdown has been tough on not only myself but my children as well. Being stripped away from school, friends, and sports with barely a moment's notice has been taking a toll on both of my children mentally. To fill the void, I have been determined to create fun at home every week by baking homemade soft pretzels, taking hikes, crafting, and trying new games and toys. ​​​​​​​​​​​​​​​​​​​​​​​​​​​​I have been trying to bring educational fun into the mix because e-learning has been tough for all of us and learning while playing always wins in my book! ​​​​​​​ ​​​​​​​​​​​​​​
Before school closed, my son took an interest in coding and I am a bit embarrassed to admit that I know absolutely nothing about that topic. ​​​​​​​In my searches for coding games, so many were focused on kids aged 10+ and I was really struggling to find something that not only my son could do, but the whole family could do together- including my 4-year-old daughter. Then, I found Mochi and I am so impressed! Mochi is a screenless coding experience that allows kids as young as 3 to begin learning complex coding concepts without a screen. Not only that, Mochi is so easy to understand that not only could we all play together but both of my kids, aged 4 and 7, played entirely on their own while I got some work done in peace. So what exactly is Mochi and why would your kids benefit from it? Here are my top reasons we are Mochi lovers for life- and why you should be too!
Why Fun Screen-Free Coding for Kids with Mochi is Such a Win!
I am so tired of screens. Tv, tablets… some days I feel like my kids are turning into vegetables starting at a screen all day, even if it's for a good cause like online schooling. Instead of focusing on a screen, Mochi uses physical items, difficult and abstract ideas, music, and words through simple steps kids can touch and manipulate.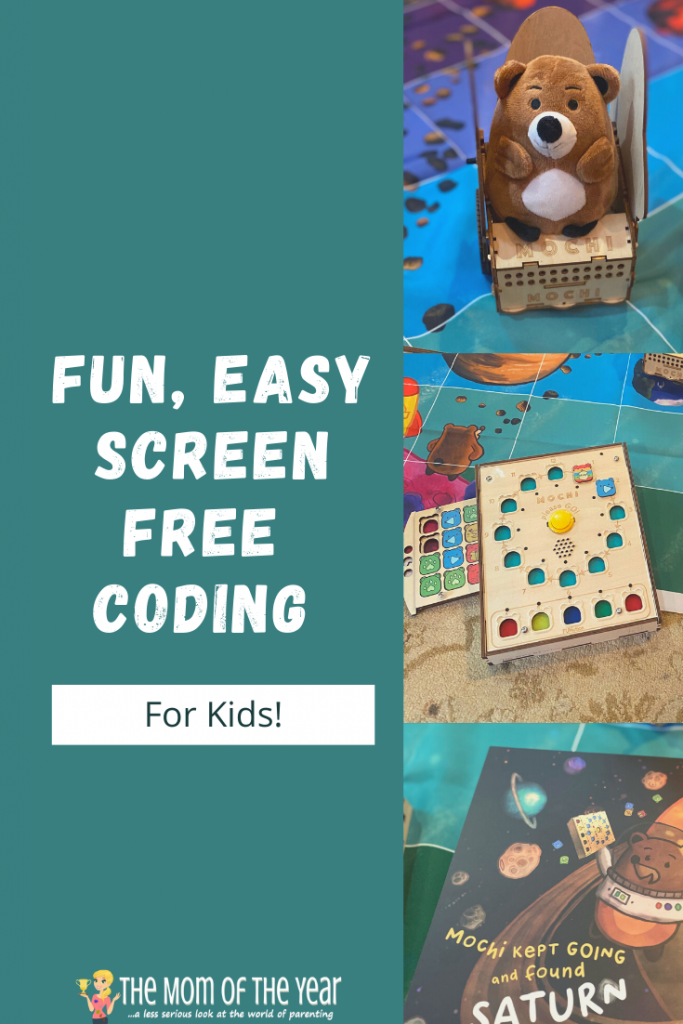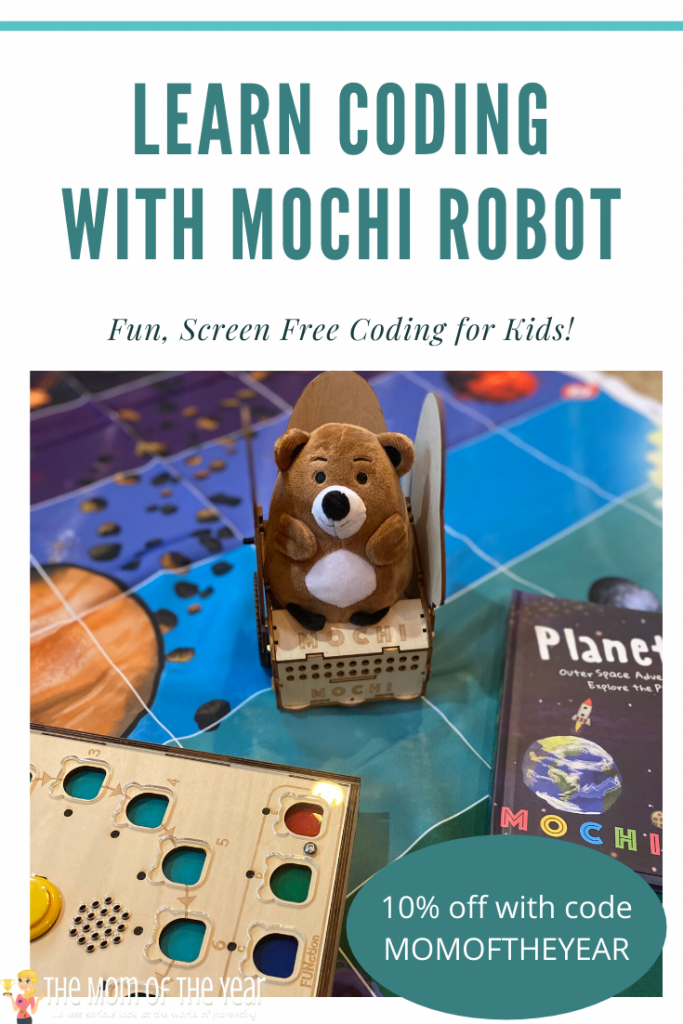 It's not just coding, it's learning too
Mochi is a multimodal play experience that engages all the senses and allows kids to combine reading, listening, critical thinking, spatial reasoning, and creativity all in one when they are playing and learning. The Mochi programming board talks to you, gives voice feedback, and even sings songs! My 4 year old loved hearing familiar songs like Twinkle Little Star. I loved how it voices where you are going (forward, backward, right, left) which helped my 4-year-old learn directions. There is an amazing 12 story library of books on all kinds of different subjects sure to engage kids who have many different interests. When you insert the book block into the board, the board will read you the entire story of the storybook you currently have. This can even help younger children learn to read!
Can someone say LEGO?
If you're like me, your kids were/are Lego obsessed throughout ages 3-7. When building your Mochi Robot (adorably named Mochibot), kids can creatively combine their old Legos to build inventions that make them excited to play and learn. I loved how the creative playtime never ended with all of the fun inventions my kids created on their Mochibot. Since our book had a planet theme, my son created a LEGO rover that Mochibot delivered to each planet!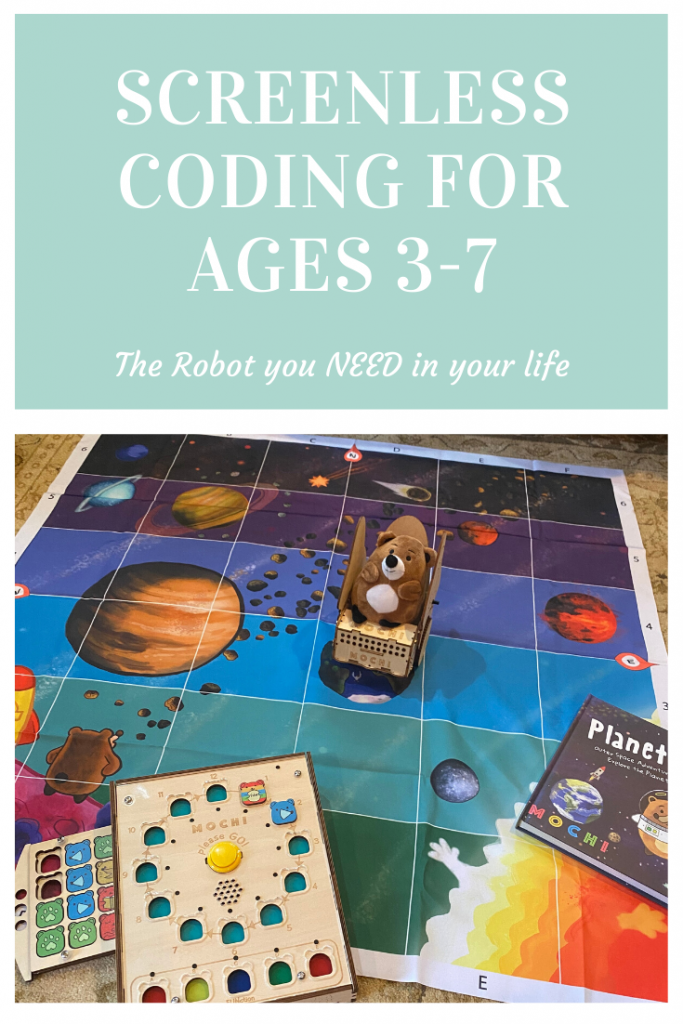 I know to find new, educational activities can be difficult right now- especially off screens. Mochi was exactly what my family needed to add to our school rotation! As a bonus, all Mom of the Year followers gets 10% off with code MOMOFTHEYEAR. I can't say enough good things about Mochi, it has really given us an educational, fun, screen-free outlet to enjoy during this difficult lockdown.
The following two tabs change content below.
Lindsay Houser
When Lindsay isn't fielding three-nager temper tantrums and scraping Play-Doh off the floor, her passions are the great outdoors, cooking, creating, and healthy, holistic living.
Latest posts by Lindsay Houser (see all)