***Thank you to Hershey Entertainment and Resorts Company for sponsoring this post so I could fill you in on Hershey's history***
Recently I got to spend a very cool weekend in Hershey, PA. While exploring the town, I was impressed with so much–the stunning beauty of Hotel Hershey, how user-friendly Hersheypark's Camping Resort is, the top-notch quality of Hersheypark's Accessibility Program, the upcoming (this weekend!) celebration of ZooAmerica's 40th Anniversary, and the Hershey Lodge's wow-worthy indoor water park, to name a few of the sites that were noteworthy. But my favorite part of the weekend, and Hershey, PA itself, was learning more about Hershey's history.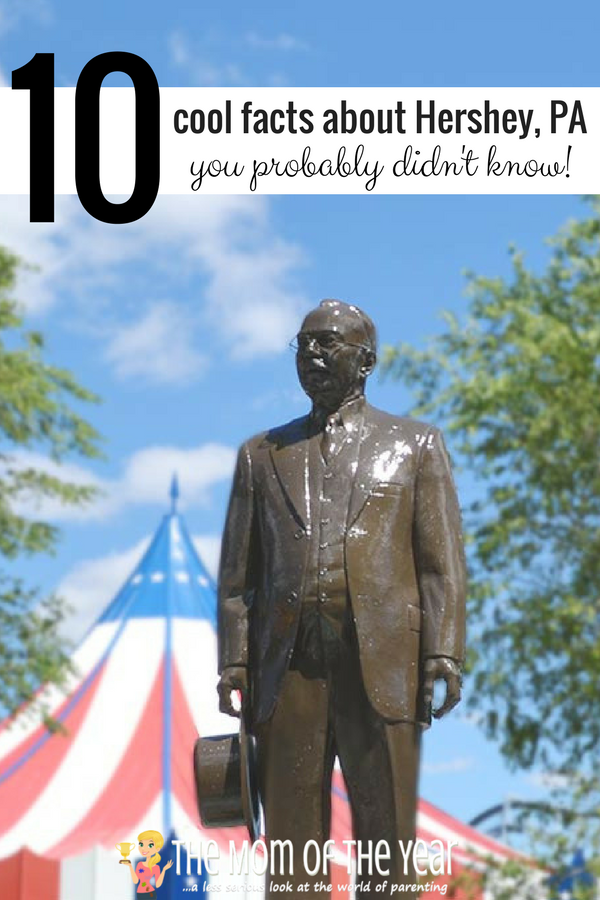 I know, I know! NERD ALERT. Proud history buff here. It was fascinating to spend the weekend studying the rich history of Milton Hershey, the founder of Hershey, and the town's development. Via the trolley tour we enjoyed and our super-informative tour guides at the hotel and the Hershey Theatre, I learned so many cool facts about Hershey's history I didn't know–despite growing up just minutes away and being raised by a family who had a deep appreciation for Mr. Hershey and his town!
Fun facts about Hershey's chocolate abound (the Kisses used to be hand-wrapped, Mr. Hershey started in caramel making before venturing into chocolate, and the first recipe for s'mores using Hershey Chocolate bars appeared in a Girl Scout handbook in 1927, to name a few), but I'm here to share some lesser-known truths about what made Milton Hershey and his town so uniquely special and awe-inspiring. Fair warning, friends–if you read on, you may just fall as in love as I am with Hershey, PA, and once you're a goner, there's no going back!
10 Sweet Surprises about Hershey's History:
After finding success in chocolate-making and opening the world's largest chocolate plant in Hershey, PA in 1905, Milton Hershey set about creating a real hometown for his employees. Versus creating a faceless industrial town, he aimed for welcoming homes, quality education for children, accessible public transportation and plenty of recreational opportunities.
With this goal in mind, Hersheypark opened for the employees in 1907. Known as a spot for picnicking, boating, and canoeing, other attractions and rides were added through the years until it became the destination amusement park it is today! My father remembers swimming at Hersheypark's pool as a child!
When the Depression fell on the rest of the nation, Mr. Hershey was intent that the residents of his town would continue to flourish. He launched his "Great Building Campaign" to provide work building some of the major structures in Hershey: the Hershey Community Building and Hershey Theatre, The Hotel Hershey, Hersheypark Arena and Stadium. While much of the nation struggled, Hershey continued to grow and develop.
The Hershey Community Building and Theatre truly was THE town center. Completed in 1932, it housed a swimming pool and gymnasium, the library, hospital, two theatres, a restaurant, nurses' quarters and men's dormitories.
Milton and his wife Kitty (Catherine) were unable to have children of their own, so they used their wealth to create the Milton Hershey School for orphaned boys to provide a positive, structured home life year-round to help children gain the skills to be successful in all aspects of life. Today, this school is a state-of-the-art facility for the housing and education of more than 2000 boys and girls. I will be sharing more of the incredible story of this school soon–stay tuned!!
Milton Hershey took his role as mentor/father-figure so seriously that during WWII, many Milton Hershey students/graduates who died in the war listed him as their next of kin.
Hershey also supported the war by providing Ration D bars, designed to withstand high temps, to the troops, and allowing the US Government to house French government representatives at the Hotel Hershey during the war, closing it to the public for the duration of their stay.
Milton Hershey's wife died prematurely in 1915, and he commemorated her memory by moving her personal rose bushes to the Hershey Gardens, and continuing to have roses delivered daily to her grave.
The Circular Dining Room was constructed, at Mr. Hershey's insistence, despite push-back from builders, in the shape of an absolute circle. Hershey travelled frequently, and he was disenchanted by single diners or those unable to tip well being being put in the corner. He wanted to circumvent this by creating a dining room without corners.
Before Milton Hershey died in 1945, he left his wealth in a trust for the continued care and progression of the company, town, schools and institiutions. Hershey continues to benefit multifold from this benevolence today.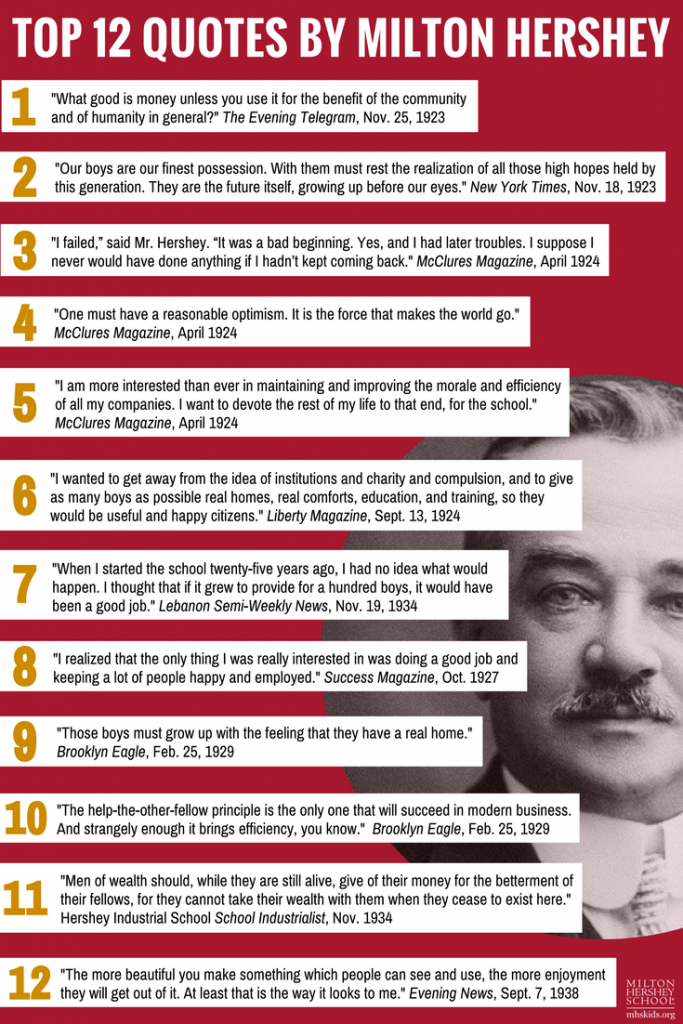 Anyone else now a Hershey fan with me after learning more about Hershey's history? I know! It's truly an incredible place with an even more incredible history, friends! Time to plan a visit now!
The following two tabs change content below.
Meredith blogs at The Mom of the Year, where she dedicatedly earns her title one epic parenting fail at a time, offering quick, relatable laughs for fellow parents and all their empathizers. She has been part of several best-selling anthologies, featured on prominent sites such as Huffington Post, In the Powder Room and BlogHer, and loves her role as the Executive VP/Operations Manager of The BlogU Conference. When she's not breaking up fights over Legos and juice boxes, she remains fully committed to sharing a less serious look at the world of parenting.